Edge-on-Hudson: A New View on the River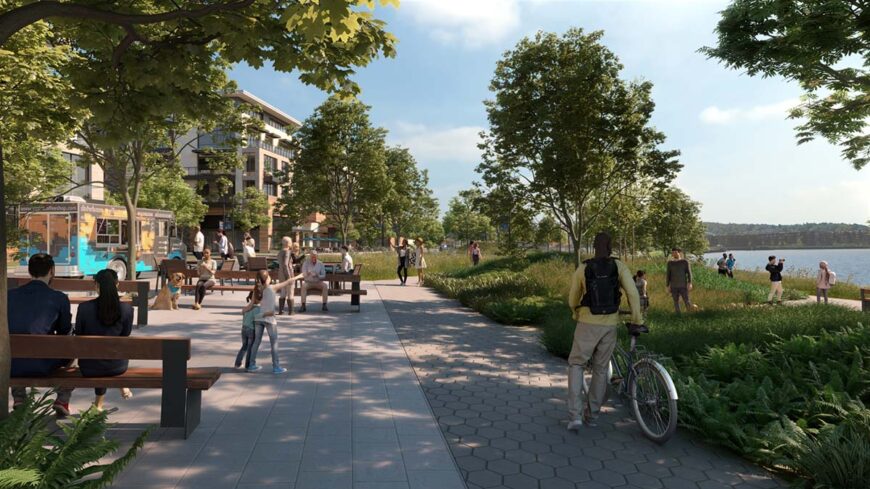 Meet urban living on the edge, at Edge-on-Hudson. New luxury residences steps from Metro-North and the riverfront. Above: An artist's rendering of the Sleepy Hollow RiverWalk at Edge-on-Hudson, opening in the coming months.
Edge-on-Hudson is transforming Sleepy Hollow into a gateway to the Hudson Valley with a new transit-oriented, mixed-use development that recently earned top honors as a "Community of the Year" from the National Association of Home Builders.
The community offers public access to a premier 70-acre stretch of waterfront for the first time in more than a century, including the soon-to-be-unveiled Sleepy Hollow RiverWalk at Edge-on-Hudson.
We at Historic Hudson Valley (HHV) are proud to have Edge-on-Hudson as a Contributing Sponsor of the 2021 Great Jack O'Lantern Blaze and as a partner in supporting the breathtaking region we call home. The inspiration that Edge-on-Hudson draws from our area's rich history and diverse culture is evident in its architectural detail and embrace of outdoor adventure.
Just 37 minutes from Grand Central and steps from two Metro-North stations, Edge-on-Hudson is a contemporary riverfront destination for urbanites who love the outdoors. You can:
• Hike, bike, or run on the waterfront promenade
• Launch a kayak into the Hudson's vast waters
• Take the family to nearby Kingsland Point Park or HHV's Philipsburg Manor
• Enjoy instant access to the ultimate in urban amenities—including a planned boutique hotel, shops, eateries, rooftop retreats, a DeCicco & Sons supermarket, and modern office lofts
At Edge-on-Hudson, home is a new walk-up townhome, luxury condo, or apartment tucked among walkable neighborhoods with open green space and pathways. It's Hudson Valley living like never before, with spectacular views of the Governor Mario M. Cuomo Bridge to the Midtown Manhattan skyline. Like HHV, Edge-on-Hudson celebrates everything that new residents, locals, and visitors love about the historic Hudson Valley. More information is available at www.edgeonhudson.com.