Learning What It Takes to Be a Colonial Survivor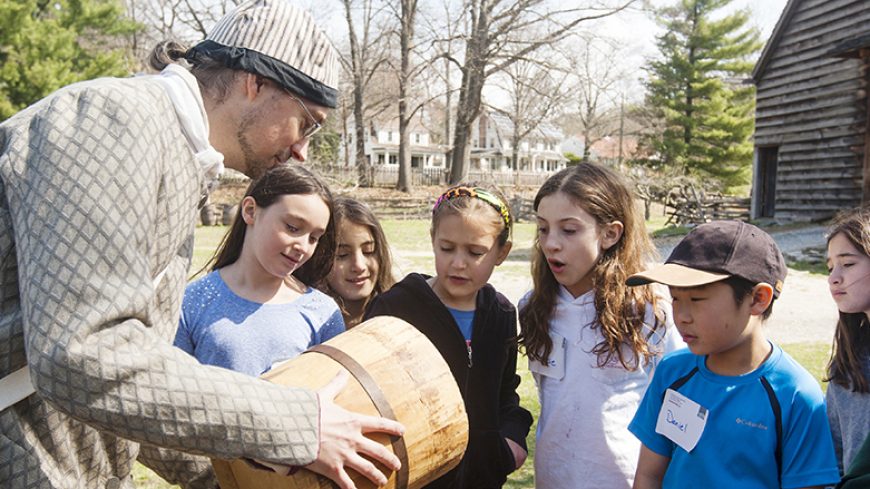 If you lived 250 years ago, would you be able to tell apart wild plants you could eat — or use for medicines — from those that might poison you? Did you know it takes a string of yarn as long as three football field lengths to knit one average scarf? How, exactly, does a field of wheat become bread?
These are just some of the questions explored by participants recently at Operation: Colonial Survivor, a new youth program at Philipsburg Manor in Sleepy Hollow.
The day began as the participants built a fire together—first identifying that heat, fuel, and oxygen are the three things they needed to make their fire—then foraging for the materials to build it.
Next the team of colonists explored the garden and grounds of Philipsburg on a plant scavenger hunt, which included a lesson on how to identify (and avoid!) stinging nettles. The medicine workshop ended with everyone covered in a bran-and-vinegar poultice, wrapped in a linen strip, the equivalent of our modern-day Neosporin and Band-Aid.
Kids engaged in hard work in the next station—field-to-flour—in which they had to hoe a patch of ground, thresh and winnow rye, haul a 50-pound bag of seed from the barn to the mill, and finally grind corn kernels into flour using a mortar and pestle. They found the use of simple machines such as a hoe (both wedge and lever), an inclined plane, the wheel of a wheelbarrow, and the pulley on a block-and-tackle, made all of these tasks easier, though certainly not easy.
If a theme is starting to emerge here, it's because Operation: Colonial Survivor began with the idea of getting youth to understand how much STEM content (science, technology, engineering, and math) could be found on our 18th-century site. As the program developed, we kept two things in mind: first, we used STEM ideas to guide every activity we chose, but second, and even more important, each activity had to be fun for our participants. Learning yes, but definitely no school on Saturdays!