49 Questions (and Answers) About the Great Jack O'Lantern Blaze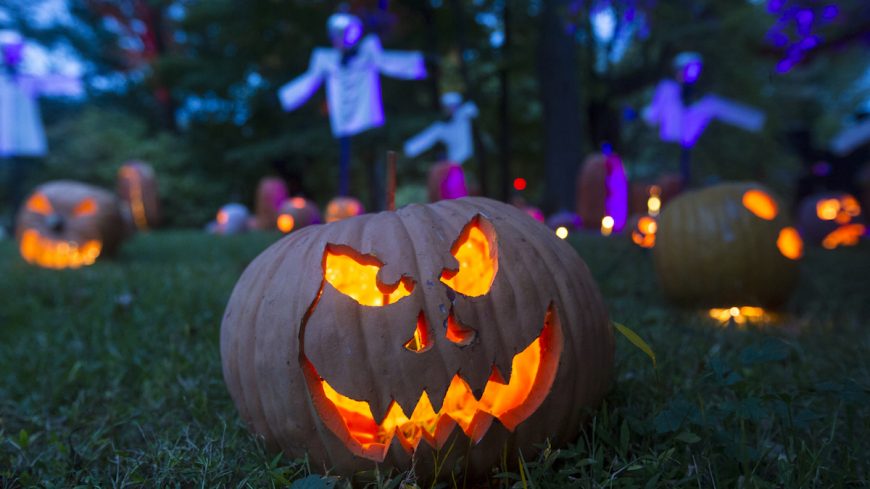 1. So what's this Blaze business all about? 
The Great Jack O' Lantern Blaze is a fall spectacle integrating thousands of hand-carved jack o'lanterns — everything from your standard Jack to extremely elaborate abstract designs — lit up throughout the landscape of Van Cortlandt Manor in Croton-on-Hudson, N.Y., in various arrangements — thematic, conceptual, and otherwise. While this event pays tribute to Halloween and Sleepy Hollow Country, Blaze transcends its Halloween roots and is now a classic fall festival.
2. And what's that got to do with Van Cortlandt Manor?
Blaze's creative director, Michael Natiello, said the true inspiration for Blaze is the landscape of Van Cortlandt Manor. The event is really a land art installation informed by artists such as Michael Heizer, Robert Smithson, Donald Judd, and Andy Goldsworthy. Various arrangements and placements of pumpkins are meant to complement and draw attention to the site's architecture, history, and landscape.
3. OK that is impressive. How long have you been doing this?
This is our FOURTEENTH year! Blaze began in 2005 and has gotten bigger and better every fall.
4. Even though we're asking all these questions, we've actually been there 10 years in a row…anything new at Blaze this year for returning visitors?
Gaze reverently at the brand new Pumpkin Statue of Liberty. Watch our 20-foot Pumpkin Carousel spin round and round…careful you don't get dizzy! Party with our Pumpkin Possum Posse and dig the Plus-Sized Pumpkin Planetarium.
5. For some reason this is making me want to join the circus.
Excellent, because another favorite element is our Circus Train! Featuring a cast of colorful pumpkin clowns and awesome pumpkin animals, it will whet your big top appetite.
6. Did I mention I'm studying for a certificate in Freudian analysis?
Great, you might enjoy our installation of shrunken heads.
7. Does Blaze have an official soundtrack?
Yes! In fact, two volumes of soundtrack! Blaze: The Soundtrack, Volume I and II both feature more than 60 minutes of music from, about, and inspired by Blaze, created by recording artist, radio personality and Halloween fanatic Richard Christy. PLUS, we've got more brand new tracks this year.
8. I'm tempted by all this, but I need a little more convincing. Did a tastemaker, like, for example, Martha Stewart, ever say anything about the Blaze?
Funny you should ask! Martha herself called the event a "Halloween extravaganza" when she featured the event and Michael Natiello in a 12-minute segment on her show. She even carved jack o'lanterns with Michael Natiello in her studio! You can see a clip she posted from the show on her YouTube channel.
9. Good, how about an A-list movie star?
Neil Patrick Harris loves the Blaze! Check out what he tweeted about it!
10. Good, how about an A-list TV star?
Laura Prepon loves the Blaze! Check out her Instagram photos of it!
11. Martha and Laura and Neil are great…but what about the people. What do the people say?
See what actual Blaze visitors had to say about their experience in this YouTube video.
12. Wait…what about the media elite? Have they given their endorsement?
Absolutely! Check out Fox 5's coverage here and check out a whole bunch of other ones here: the Today Show, New York Post, Gothamist, and more!
13. Is there anything else like this anywhere else?
Absolutely not! This event is so one-of-a-kind, the name (and the 'Blaze' shorthand) are registered trademarks!
14. Now that I've cured my cucurbitophobia, I need some scary, non-pumpkin-experiences. What are my non-Blaze options?
If you're ready to be scared out of your mind, pay a visit to Horseman's Hollow at Philipsburg Manor, a Historic Hudson Valley event back for its seventh year and designed to scare the pants off of you (not literally, of course). Click here for details!
15. Awesome! I want to experience Blaze and Horseman's Hollow on the same evening. Is that possible?
Yes! But the events are in different locations that are about a 20-minute drive apart. We recommend you leave a minimum of two hours between your ticket times. For example, pair a 7:30pm Blaze ticket with a 9:30pm Horseman's Hollow ticket.
16. Are Blaze and Horseman's Hollow within walking distance of each other?
Well, you could walk…but it would take you about three hours! Blaze takes place at Van Cortlandt Manor in Croton-on-Hudson and Horseman's Hollow takes place about 8 miles south at Philipsburg Manor in Sleepy Hollow. They are about 20-minutes apart by car, depending on traffic.
17. And what else can I do in Sleepy Hollow Country?
You can experience a live performance of Irving's 'Legend,' where master storyteller Jonathan Kruk offers a dramatic re-telling of The Legend of Sleepy Hollow in the incredible candlelit setting of the Old Dutch Church, just across the street from Philipsburg Manor. Tours of the Sleepy Hollow Cemetery are super cool, too.
18. Filling my nights with Halloween delights is not enough, what can I do during the day?
New this year at Sunnyside, the homestead of Washington Irving, is Sunnyside: Home of the 'Legend', where you can learn all about the man behind the famous Legend of Sleepy Hollow. This daytime event is perfect for all ages and a great way to spend the day before our evening events.
19. Now my Halloween appetite is insatiable, but I'm a newly licensed social media guru and dozens are living vicariously through me online. Can I Tweet/Facebook/Instagram/YouTube/Pin you?
Yes. Check us out on Twitter here.
Check out our Facebook page here.
Check out our Instagram page here.
Check out our YouTube page here.
Check out our Pinterest page here.
Check out our Google+ page here.
20. Being a social media guru, I can only attend events that have an unofficial "official" hashtag. Might there be one for Blaze?
#PumpkinBlaze. Tweet it, Facebook it, Instagram it, Pin it, and +1 it!
21. Back to the basics. How many pumpkins go under the knife for this event?
You'll find more than 7,000 hand-carved jack o'lanterns lit up throughout the landscape.
22. I hear Blaze has "themed" areas. Is one the theme from Mission Impossible?
Themed areas include the Skeleton Emergence; Jurassic Park, featuring dinosaurs; the Undersea Aquarium, featuring carvings of fish and other oceanic life; Buzzing Beehive…oh, and the Flesh-Eating Plants section, plus many more!
23. When I'm viewing thousands of jack o'lanterns in one space, ambiance is key. How will you satisfy that need?
Professional lighting designer Jay Woods works with the Blaze team to create an atmospheric tableau that enhances the carving artistry and transforms the Manor House into an amazing, ever-changing spectacle. Synchronized lighting means several of the installations will be "moving." Very cool!
24. Are those real pumpkins?
Many are real and some are Funkin "art pumpkins." But EVERY SINGLE JACK O'LANTERN is individually hand-carved on site at Van Cortlandt Manor by our team. Every. Single. One!
25. I bet it's a lot easier to carve these art pumpkins than it is to carve real ones. Right?
Actually, it's harder. Both are well-suited for carving work, certainly, but nature's canvas is much more pliable.
26. And just how much pumpkin are we talking here?
Because not all the pumpkins survive for the full run of Blaze, we order more than 10,000 live pumpkins, which weigh between five and fifty pounds each. All told that's more than 200,000 pounds o' pumpkin!
27. I've never heard of this "pumpkin." Tell me about them!
Pumpkins are fruits. A pumpkin is a type of squash and is a member of the gourd family (Cucurbitacae), which also includes squash, cucumbers, gherkins, and melons. They have been grown in North America for five thousand years and are indigenous to the western hemisphere. In 1584, after French explorer Jacques Cartier explored the St. Lawrence region of North America, he reported finding "gros melons." The name was translated into English as "pompions," which has since evolved into the modern "pumpkin."
28. Who carved all these pumpkins and how long does it take?
Creative Director Michael Natiello leads a team of Historic Hudson Valley staff and local artists. It takes a very long time.
29. And what about the prep work?
In 2016, more than 2,600(!) volunteers helped Blaze by doing vital scooping and lighting work. Among the organizations helping with the scooping and lighting this year are ARC, Another Step, Cerebral Palsey of Westchester, Community Based Services, Connecticut Girl Scout Council, Croton Cheer, Croton Firefighters, Heart of the Hudson Girl Scouts, Westchester Putnam Boy Scout Council, YAI, Yonkers Boy and Girl Scout troops, Historic Hudson Valley staff and volunteers and many others who just like to pitch in!
30. This is a LOT of work! When exactly did the carving begin?
Carving of the art pumpkins began in June. The real pumpkins are carved throughout the run of Blaze. Prior to each event week, it takes 15 to 20 volunteers several days of scooping pulp and seeds from the pumpkins to get them ready for the carvers. Many of the pumpkins must be replaced during the event's seven-week run.
31. Wow! What else do the volunteers do?
During each night of the event, it takes 15 to 20 volunteers to light the votive candles in the pumpkins. They start lighting about three hours before the event begins.
32. I like lighting up the lives of others and my dog gives me plenty of scooping practice. Can I volunteer?
Absolutely, contact Cheryl Bernstein and tell her about your interest.
33. Where can I learn how to carve elaborate designs on a pumpkin?
CLICK HERE for some tips from Michael Natiello on taking your pumpkin carving to the next level. You will also find a selection of books about pumpkin carving at the Great Jack O' Lantern Blaze Shop.
34. You must seriously pack in the visitors. How many people come to Van Cortlandt Manor for Blaze?
Last year's event drew more than 160,000 visitors!
35. Historic Hudson Valley. Is that a place or a state of mind?
Actually, it's a non-profit network of historic sites in Sleepy Hollow Country, including Van Cortlandt Manor. The others are Washington Irving's Sunnyside; Philipsburg Manor; and the Union Church of Pocantico Hills. The organization operates public tours at Kykuit, the Rockefeller estate, a historic site of the National Trust
36. My pets, Diana the tabby, Bianca the bulldog, and Taco and Tico the guinea pigs are all part of my family. Can they come to Blaze?
Sorry, but no. Blaze is for humans only.
37. I like souvenirs. Please tell me there are souvenirs!
The BLAZE Shop has lots of NEW exclusive BLAZE merchandise for 2017 including new T-shirts, sweatshirts, baseball caps, backpacks, aprons, key chains, mugs, and magnets. Relish the tasty treats in our BLAZE Marketplace, stocked with pumpkin culinary delights like BLAZE Pumpkin Popcorn, BLAZE Pumpkin Spice Malt Balls, savory pumpkin simmering sauces, pumpkin chili starter, pumpkin seeds, pumpkin butter, pumpkin syrup, pumpkin pie spices, delicious Hudson Valley pumpkin honey, pumpkin honey mustard, plus tasty Tuscany pumpkin sauce to add to your favorite pumpkin pasta. Carve your masterpiece with our very own made in New York BLAZE pumpkin carving set. Set the mood with BLAZE white pumpkin candles and diffusers and our BLAZE pumpkin soap. Once again, Suzanne Christine's Blaze paintings will provide the base for a new line of gifts items, all made exclusively for the BLAZE Shop!  Are you ready to FLASH your way through BLAZE?  We have LED necklaces, bracelets, eyeglasses, earrings and rings, flashing LED swords, spinning Jack O'Lanterns, fiber optic wands and glow-in-the-dark gloves. Plus, we feature more than 50 new books for young and not so young readers. And of course, don't miss Blaze: The Soundtrack Volume I and II.
38. Awesome! But I need cute Blaze stuff for my kids…
You will love our new Baby BLAZE line featuring onesies, bibs, and youth t-shirts!
39. My pets are my kids. What about stuff for my furry kids???
You will love our new BLAZE Pets line featuring doggy bandanas, leashes and fun toys for dogs and cats!
40. I've just been handed a note that reads…"I'd like to register a complaint. For years and years, I've asked if Blaze shot glasses are available and they are never available. That is a terrible thing. Signed, 'Shot Glass' Steve"
The wait is over! We have Blaze shot glasses and at our Philipsburg Manor shop, Legend shot glasses. Both were HUGE sellers last year! This year, we are adding a NEW Horseman's Hollow shot glass.
41. If only an artist was inspired to create a book about Blaze…
Local painter Suzanne Christine has done just that…twice! Besides serving as a canvas for many items available in our shop, her Blaze paintings are now collected in two illustrated children's books. The Great Jack O'Lantern Blaze and the Magic Goblins, and A Journey through the Great Jack O'Lantern Blaze, are best sellers.
42. Clearly, Historic Hudson Valley couldn't have done this all on its own. Who else helped?
We graciously thank our generous sponsors, Blaze Founding Sponsor Entergy, Blaze Presenting Sponsor Westchester Medical Center, Blaze Contributing Sponsors J.P. Morgan Chase and Captain Lawrence Brewing Company, and Blaze Media Sponsors WHUD 100.7 FM and The Journal News/LoHud.
43. Is this event appropriate for my young child? How scary is it?
Blaze is suitable for a general audience. While there are some elements that are spooky, this is not a haunted tour, so there will be no goblins or ghouls jumping out to scare the wits out of the youngsters. Families with young children may want to choose an earlier time slot, when it's not so dark. If you're looking for the scariest event in Sleepy Hollow Country, check out Horseman's Hollow.
44. All this talk of food has got me ravenous for Pumpkin Pie. You wouldn't happen to have a killer recipe, would you?
You are going to flip for this recipe. It's based on a historic recipe for "Pompkin Pudding," which appeared in America's first cookbook, "American Cookery" by Amelia Simmons, in 1796.
45. That recipe sounds so good, I'm going to use it to make the largest pumpkin pie ever. What record do I have to top?
The largest pumpkin pie ever baked was in 2003 and weighed 418 pounds.
46. I'm on a green drink diet, and I no longer eat rice or grains. Should I feel guilty after eating pumpkin pie?
Pumpkins are low in calories, fat, and sodium, and are high in fiber. They are good sources of Vitamin A, Vitamin B, potassium, protein, and iron.
47. Perfect. To make the biggest pumpkin pie, I'm going to need to grow the biggest pumpkin. Whose record do I have to top?
The largest pumpkin ever grown was 1,337 pounds. It was grown by Charles Houghton of New Boston, New Hampshire.
48. By the way, what's so historic about a Jack O' Lantern?
An ancient Irish legend holds that a man named Jack (or in some versions, "Stingy Jack"), too sinful to be admitted to heaven, was also denied entrance to hell. So he carved a turnip, lit it with a candle, and wandered the earth for a resting place, hence the name "Jack O' Lantern."
49. The pumpkin…why?
Because it's round, orange, and there.