Recommended Reading: Books on Slavery for Children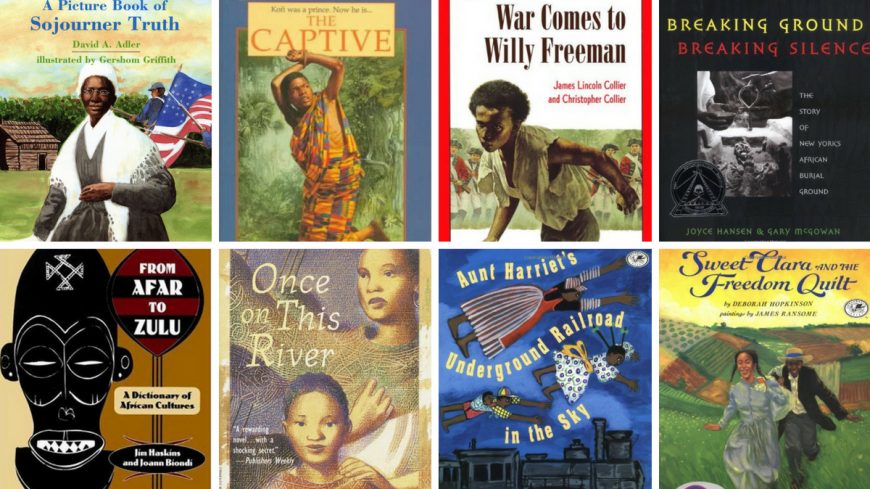 Adler, David. A Picture Book of Sojourner Truth. New York: Holiday House, 1994.
Bial, Raymond. The Underground Railroad. Boston, MA: Houghton Mifflin Co., 1995.
Collier, James Lincoln. War Comes to Willy Freema. New York: Dell Publishers, 1983.
Everett, Gwen. John Brown: One Man Against Slavery. New York: Rizzoli, 1993.
Ferris, Jeri. Walking the Road to Freedom: A Story about Sojourner Truth. Minneapolis, MN: Carolrhoda Books, 1988.
Hansen, Joyce. The Captive. New York: Scholastic Inc., 1994.
Hansen, Joyce and Gary McGowan. Breaking Ground, Breaking Silence: The Story of New York's African Burial Ground. New York: Henry Holt, 1998.
Haskins, Jim. From Afar to Zulu: A Dictionary of African Cultures. New York: Joann Biondi, Walker & Co., 1995.
Haskins, Jim and Kathleen Benson. Bound for America: The Forced Migration of Africans to the New World. New York: Lothrop, Lee & Shepard Books, 1999.
Hopkinson, Deborah. Sweet Clara and the Freedom Quilt. New York: Knopf Publishers, 1993.
Meltzer, Milton (ed.) The Black Americans: A History in Their Own Words 1619 – 1983. New York: Harper & Row, Publishers, 1984.
Ofosu-Apprah, L. H. People in Bondage: African Slavery in the Modern Era. Minneapolis, MN: Lerner Publishing Co., 1971.
Ringgold, Faith. Aunt Harriet's Underground Railroad in the Sky. New York: Crown, 1992.
Stowe, Harriet Beecher. Uncle Tom's Cabin. New York: Bantam Classics, 1983.
Wyeth, Sharon Dennis. Once on This River. New York: Knopf Publishers, 1997.