Top 10 Halloween Attractions in Sleepy Hollow Country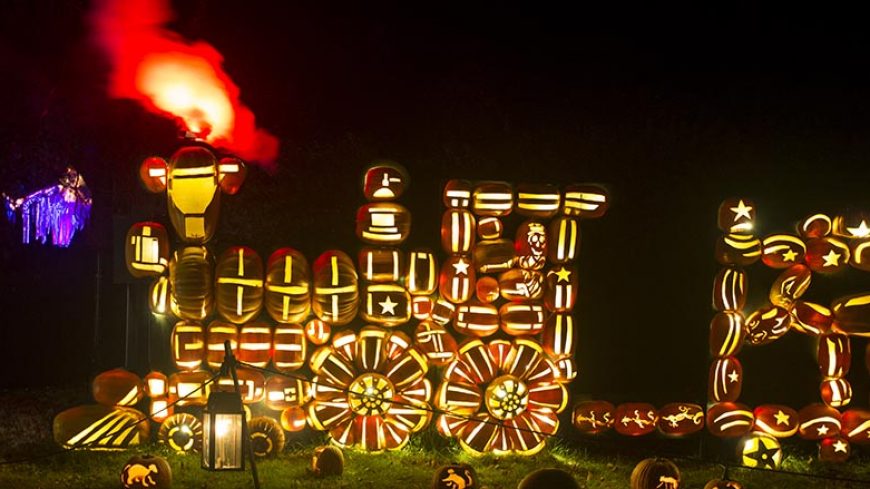 When it comes to celebrating the Halloween season, no place has more things to do than Sleepy Hollow Country.
We've compiled a list of the best of the best, from the haunted and terrifying to the soothing and safe. From the incredible Great Jack O'Lantern Blaze to the iconic Headless Horseman's bridge, these are the area's can't miss, most fun attractions. Some of these are events that require timed tickets and they do sell out, often well in advance, so don't wait to get yours.
1. The Great Jack O'Lantern Blaze
Recommended for all ages
Unquestionably the biggest Halloween themed ticketed event in the region, if not the entire country, The Great Jack O'Lantern Blaze has earned national recognition as the most unique Halloween experience imaginable. More than 7,000 hand carved jack o'lanterns decorate Van Cortlandt Manor in Croton-on-Hudson, NY, turning it into an orange wonderland. Haven't seen a giant 100-foot long sea serpent made entire of jack o'lanterns? Now is your chance. Blaze kicks off on Sept. 30 and goes through the middle of November. Capacity is limited and EVERY night sells out. Don't delay reserving your spot if you want to see this in person.
2. Horseman's Hollow
Recommended for ages 10+
Proud of its reputation as the number one haunted attraction in the real Sleepy Hollow, Horseman's Hollow is an outdoor/indoor "period correct" haunt. Taking the tale of The Legend of Sleepy Hollow to its darkest extremes, Horseman's Hollow turns historic Philipsburg Manor into a village ruled by the undead, the evil, and the insane, all under the control of the Headless Horseman himself. This is a truly terrifying experience, with all the implements of mayhem you'd expect in the late 1700s. (In other words, no chainsaws.) Get your tickets early as this sells out fast, especially on Saturdays.
3. Irving's 'Legend'
Recommended for ages 10+
You want atmosphere in your haunted experiences? Well how about an incredible, dramatic performance of The Legend of Sleepy Hollow in the candlelit confines of the Old Dutch Church in Sleepy Hollow? Master storyteller Jonathan Kruk doesn't just tell the tale, he embodies it. Riveting, powerful, and uniquely Sleepy Hollow. Small church plus handful of tickets equals another "don't delay" event.
4. Sunnyside: Home of the 'Legend'
Recommended for all ages
Just who was that Washington Irving anyway? Learn about the man who put Sleepy Hollow on the map, literally, during this daytime, great-for-the-kids experience at Sunnyside, where Irving lived from 1839 until his death in 1859. A house tour with cheeky Legend memorabilia (Headless Horseman Pez dispenser, anyone?), "spooky" walk through the woods, and Legend puppet show make for a pleasant afternoon and a good prelude for the area's evening events.
5. Sleepy Hollow Cemetery guided tours
Recommended for all ages with exceptions
Among other notable names, William Rockefeller, Washington Irving, Andrew Carnegie, and Leona Helmsley all call this gorgeous, pastoral, historic cemetery home. Daytime and lantern-lit evening guided tours are hugely popular and hugely interesting. Tour options and subjects vary. One popular tour in the Halloween season is Murder & Mayhem, which showcases some of the cemetery's more colorful characters: victims and perpetrators alike. (Note: The cemetery is quite large (85 acres) and tours involve walking over a mile on sometimes uneven surfaces. Murder & Mayhem is not suitable for children.)
6. Visit the Old Dutch Church
Recommended for all ages
Even if you can't get into a sold-out performance of Irving's 'Legend,' you can still visit the Old Dutch Church Burying Ground during the day. Immortalized by Washington Irving, this little church dates to the late 1600s and is surrounded by the Old Dutch Burying Ground. The oldest headstone that is still visible dates to 1755. Some of those thought to inspire characters in the Legend story are buried here.
7. Jay Ghoul's House of Curiosities at Lyndhurst Mansion
Recommended for all ages
Lyndhurst, a Gothic Revival mansion known best as the home of railroad magnate Jay Ghoul, can be pretty spooky even during the day. But when the sun sets in October, this National Trust for Historic Preservation site turns up the thrills with Jay Ghoul's House of Curiosities. The theme? "There's a monster in every family." Oh, indeed! Visitors meet long-dead Gould family members who take them on a spooky tour of the mansion.
8. Look for the Headless Horseman Bridge
Recommended for all ages
OK, this one is a bit of a trick. In Irving's Legend of Sleepy Hollow, Ichabod Crane meets his fate (or does he?) on a bridge over the Pocantico River. Problem is, any of the estimated five wooden bridges that once crossed the span are long since gone. Today, we have a modern bridge across Route 9, near Philipsburg Manor and Old Dutch Church, built by William Rockefeller in 1912. However, Irving himself placed the bridge's location inside Sleepy Hollow Cemetery, which has its own rustic bridge that can serve as a great stand in. Look for Sleepy Hollow Avenue.
9. Check out the Headless Horseman statue
Recommended for all ages
Another perfect example of just how much the Village of Sleepy Hollow rallies around the season, the statue is near where the no longer extant Headless Horseman Bridge was thought to exist. Installed in 2006, the 18-foot high steel sculpture shows the horseman chasing Ichabod on horseback. Be careful when you visit! The sculpture is on a small grass island in the middle of busy Route 9.
10. Village of Sleepy Hollow Haunted Hay Ride
Recommended for ages 8+
The Village of Sleepy Hollow itself gets in on the Halloween fun with a haunted hay ride, starting downtown on busy Beekman Avenue (complete with block party) before meandering into the woods where creatures lurk. The hay ride takes place over just two nights. Lines can get long so make sure you get there early!