Westchester Medical Center Health Network: Advancing Care in the Hudson Valley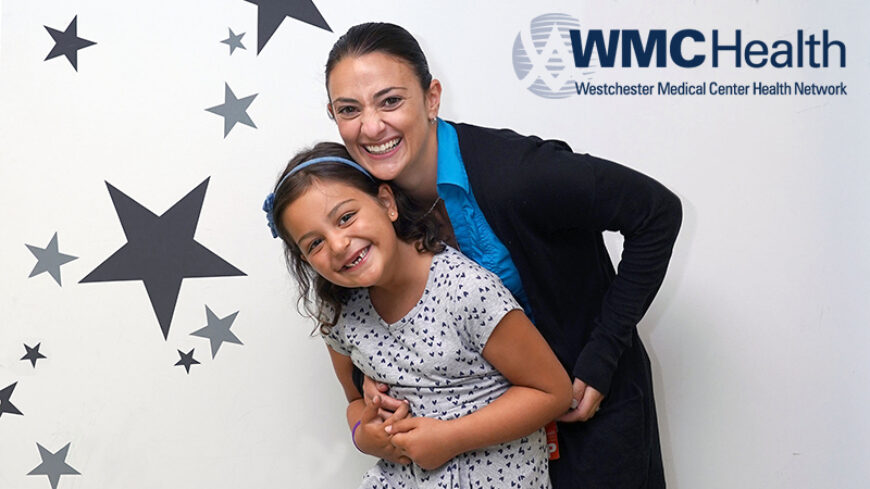 Jackie Basso, PNP, and Mia Bento, leukemia survivor, celebrating completion of her Children's Oncology Group chemotherapy protocol at Maria Fareri Children's Hospital. Photo taken pre-COVID mask requirements.
The Great Jack O'Lantern Blaze is a Hudson Valley institution and one of the region's premier family events. And just as children and parents look forward to "The Blaze" every fall, they also rely on another Hudson Valley institution: Westchester Medical Center Health Network (WMCHealth). Historic Hudson Valley (HHV) is honored to have WMCHealth as a Presenting Sponsor of the Blaze in 2020.
Westchester Medical Center serves as a lifeline for more than 2.4 million people. It is the flagship of WMCHealth, which comprises ten hospitals on eight campuses spanning 6,200 square miles of the Hudson Valley. One of the jewels of WMCHealth is Maria Fareri Children's Hospital, a resource that sets the standard for family-centered, compassionate care in an environment that promotes healing, wellness, and knowledge for children and their families. In addition to the children's Hospital on the Westchester Medical Center campus in Valhalla, WMCHealth's recently opened Maria Fareri Children's Healthcare Services at MidHudson Regional Hospital in Poughkeepsie allows children to stay closer to home for the care they need.
WMCHealth employs more than 12,000 people and has nearly 3,000 attending physicians. It is the pre-eminent provider of integrated healthcare in the Hudson Valley with Level 1, Level 2, and Pediatric Trauma Centers, the region's only acute care children's hospital, an academic medical center, community hospitals, dozens of specialized institutes and centers—including a Comprehensive Stroke Center and several primary stroke centers—skilled nursing, assisted living facilities, homecare services, and one of the largest mental health systems in New York State. And like HHV, WMCHealth is proud to be a reliable institution that serves families in the greater Hudson Valley.