Slavery in the Colonial North
A National Endowment for the Humanities Virtual Institute for K-12 Educators
---
The institute will present slavery as a central element of American economic and political development in the North as well as the South and will equip participants with the tools needed to teach this history to their classes with accuracy and sensitivity.
This Institute will be hosted by Philipsburg Manor, a historic site which has been interpreting the story of northern slavery for over 20 years. The program of study will be centered around Historic Hudson Valley's award-winning interactive documentary People Not Property: Stories of Slavery in the Colonial North, which provides historic context and models an interpretive approach centered on the stories of enslaved individuals. Academic readings selected by Institute faculty discuss how slavery developed in the United States as well as educational frameworks to help students engage with this difficult but important history. At the end of the week, scholars will submit a final project in the form of a classroom resource that makes use of People Not Property.
QUICK FACTS
Dates: Sunday, July 16 through Saturday, July 22, 2023
Location: Virtual
Size: 36 educators
Stipend: $650
Application Deadline: Closed for 2023
General Schedule:
Participants are expected to be present for the full run of the workshop. In order to accommodate participants from several time zones, Slavery in the Colonial North will utilize a mix of synchronous and asynchronous learning experiences, as well as offer a range of methods for engagement, including large group lecture/discussion, small group discussions and individual assignments. Synchronous sessions will run from approximately noon–5 pm Eastern time, with time reserved for asynchronous work in the morning and afternoon. Participants may utilize morning or afternoon asynchronous time depending on time zones and outside commitments. Staff will offer office hours during asynchronous work hours to support scholars with technical or administrative issues as well as offer guidance on final projects.
The workshop's guiding text and organizing structure will be the interactive documentary People Not Property: Stories of Slavery in the Colonial North. Each day will focus on one chapter of the website. Visiting lecturers with varied professional and academic backgrounds will model different methodologies and pedagogical approaches to this history.
The following questions will help to structure scholars' inquiry over the course of the workshop:
How did the development of colonial America depend on the institution of slavery?
Why should the history of slavery be integrated into the study of colonial America?
In what ways can the written and physical record be biased, obscuring our ability to interpret American slavery and the lives of enslaved individuals?
How can we adjust the ways that we look at these resources in order to understand them more fully?
What is the legacy of slavery in our communities today?
How do we address and repair that legacy in our classrooms?
How do we teach the difficult narrative of our nation's past?
What choices are implicit or explicit in the ways that we teach this topic?
How can we teach it more fully and accurately in our classrooms today?
July 16: The workshop will begin on Sunday afternoon with a session that will introduce participants to their fellow teachers, the institute staff, the virtual learning platform, and the People Not Property website.
July 17: Monday's session aligns with People Not Property Chapter 1: Defining Slavery and will demonstrate how enslavement became crucial to the development of the American colonies. Dr. Leslie Harris will present on the history of slavery in North America as well as the societal structures that emerged around it. A virtual exploration of Philipsburg Manor will help participants understand how the buildings and activities at this milling and trading complex shed light into the fundamental role slavery played in the development of the colonial economy.
July 18: Tuesday's session continues with a discussion of Chapter 1 and will include a presentation from Dr. Heather Williams on the legal systems that emerged to protect slavery in the colonial north. The second half of the session will focus on pedagogical strategies when teaching this content, guided by a presentation from Dr. Jacqueline Simmons of Columbia University, Teachers' College, who served as Project Director on a previous version of this institute.
July 19: Wednesday's session will focus on Chapter 2: Being Enslaved and how enslaved individuals in a variety of places demonstrated resilience in the face of dehumanization. Dr. Christy Clark-Pujara will present on the experiences of enslaved individuals during the American Revolution.
July 20: Thursday is centered on Chapter 3: Choosing Resistance and will focus on the 1741 Conspiracy, in which a group of enslaved individuals were blamed for a series of fires in New York City. Dr. Leslie Harris will lead a discussion of the events of the rebellion followed by a presentation from the African Burial Ground National Monument.
July 21: Friday's session will focus on Chapter 4: Pursuing Justice and other digital platforms which highlight this history. During this session, Dr. Nafees Khan will present on the database Slave Voyages including the process of collecting this information and different ways educators can use this resource. The session will also include a preview of Historic Hudson's Valley brand-new digital graphic novel Kofi's Trial, which highlights the role of Kofi, a man enslaved by Adolph Philipse who was accused of being a leader in the 1741 Conspiracy.
July 22: The program concludes on Saturday with a discussion of strategies for bringing this content into contemporary classrooms as well as the opportunity to share final projects with the cohort.
The final project is designed to help participants bring the content and methodologies discussed during the week back to their own work. Educators will create a resource to help students or fellow educators engage with this topic. Many of these projects will take the form of a lesson plan or educational guide. Scholars are encouraged to make use of People Not Property when designing their final project.
Please Note: Schedule is subject to change
Eligibility and Expectations
Seminars and Institutes are designed for a national audience of full or part-time K-12 educators who teach in public, charter, independent, and religiously affiliated schools, or as home schooling educators. Project directors may admit a limited number of educators who work outside the K-12 classroom and who can demonstrate that their participation will advance project goals and enhance their professional work. For more information on eligibility, see the NEH Guidelines for Participant Eligibility.
Project applicants who accept an offer to participate are expected to remain during the entire period of the program and to participate in its work on a full-time basis. If a participant is obliged through special circumstances to depart before the end of the program, it shall be the recipient institution's responsibility to see that only a pro rata share of the stipend is received or that the appropriate pro rata share of the stipend is returned if the participant has already received the full stipend. Once an applicant has accepted an offer to attend any NEH Summer Program (Seminar, Institute, or Landmark), they may not accept an additional offer or withdraw in order to accept a different offer. The full amount of Institute hours must be completed in order to receive the full stipend. The stipend will be taxable as income.
As an NEH-supported institute, Slavery in the Colonial North will follow the Principles of Civility, which establishes guidelines for open, respectful discussion. All participants must pledge to follow the Principles of Civility in their interactions with faculty, staff, fellow scholars, and other groups and individuals throughout this program. At each session, part of the opening meeting will be dedicated to how we will engage with this subject and with one another over the course of the institute.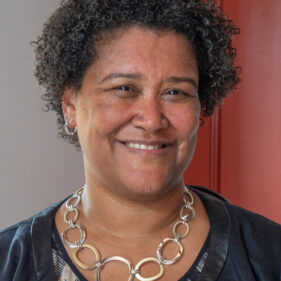 Leslie M. Harris, Ph.D., Academic Director
Leslie M. Harris is a Professor of History and African American Studies at Northwestern University. A specialist in Pre-Civil War African American history, she has authored or co-edited five books, including the award-winning In the Shadow of Slavery: African Americans in New York City (2003) and most recently Slavery and the University: Histories and Legacies (2019, with James T. Campbell and Alfred L. Brophy).  Harris has also participated in a number of public history projects, including the award-winning "Slavery in New York" exhibition (2005-2007) at the New-York Historical Society, and the accompanying book (with Ira Berlin); the re-interpretation of the urban slave quarters at Telfair Museum's Owens-Thomas House in Savannah, Georgia, which included the edited volume Slavery and Freedom in Savannah (2013, with Daina Ramey Berry); and the interactive website People Not Property with Historic Hudson Valley. As the inaugural David L. Wagner Distinguished Fellow at The Newberry Library (2022-23), Harris will complete Leaving New Orleans: A Personal Urban History, a book that combines memoir with family, urban and environmental histories to explore the multiple meanings of New Orleans from its founding through its uncertain future amid climate change. Harris received her undergraduate degree at Columbia and her doctoral degree at Stanford. Before moving to Northwestern, she taught for 21 years at Emory University. Her work has also been supported by the Harvard Radcliffe Institute, the Mellon and Ford Foundations, the Schomburg Center for Research in Black Culture, the Institute for Historical Studies at the University of Texas, and the University of Maryland.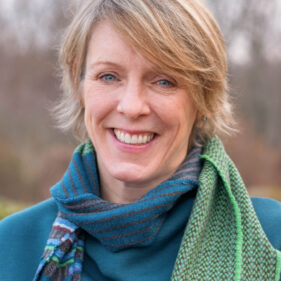 Elizabeth L. Bradley, Ph.D.
Dr. Elizabeth L. Bradley serves as the VP of Programs at Historic Hudson Valley, overseeing programs, curatorial work, and research at five historic sites, including Philipsburg Manor. She served as a key advisor for People Not Property. Previously, she directed adult program strategy for the New York Public Library's flagship research library and 88 branches. She served as the editor of the Penguin Classic Editions of A History of New York and The Legend of Sleepy Hollow and Other Stories, both by Washington Irving. Her writing about New York history and culture has appeared in Observer, Salon, Smithsonian Magazine, and The New York Times. Her books include Knickerbocker: The Myth Behind New York and Cityscopes: New York.
Guest Lecturers and Speakers
Heather Williams PhD., University of Pennsylvania
Christy Clark-Pujara, PhD., University of Wisconsin-Madison
Dr. Nafees Khan, Ralph Applebaum Associates
Jacqueline Simmons, Ed.D., Teachers College, Columbia University
Dr. Kate Shuster, Hard History Project
Blue Telescope
This Institute is made possible by the National Endowment for the Humanities: Democracy demands wisdom. Any views, findings, conclusions, or recommendations expressed in this website and its accompanying materials do not necessarily represent those of the National Endowment for the Humanities.
Endowment programs do not discriminate on the basis of race, color, national origin, religion, sexual orientation, disability, or age. For further information, write to the Equal Opportunity Officer, National Endowment for the Humanities, 400 7th Street, SW, Washington, DC 20024. TDD: 202-606-8282 (this is a special telephone device for the Deaf)