Women's History Institute Summer Research Fellowship: Call for 2021 Applications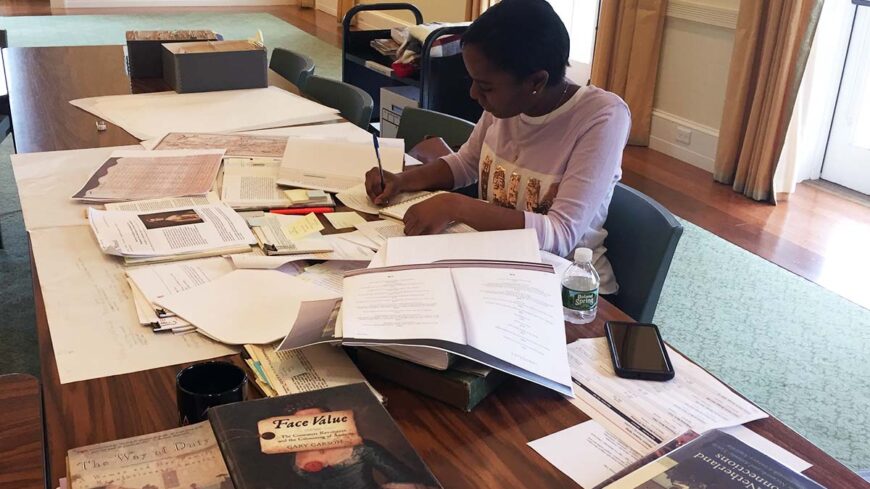 The Women's History Institute of Historic Hudson Valley is pleased to offer Summer Research Fellowships to support college and graduate students engaged in scholarly research connected to the lives of women in the Hudson Valley throughout the centuries.
Fellowship stipends are $3,000 for a minimum of 6 weeks and a maximum of three months' duration. A description of the subject holdings of Historic Hudson Valley's Library, Archives and Manuscript Collections may be found here.
Research fellows are expected to produce an article or mid-term report (750 words) on a topic related to their research, after consultation with the Librarian and the Assistant Director for Collections, during the period of their Fellowship, as well as a final academic report (10-20 pages) on their findings before or at the conclusion of their Fellowship. The Fellows may also be asked to present their research to select HHV staff and supporters, and will be offered the opportunity to take part in HHV programming.
---
I had a wonderful summer at Historic Hudson Valley. The library and collections staff was knowledgeable and helpful, and the experience was rounded out by the ability to visit the HHV historic sites and to immerse myself in the culturally rich area surrounding the facility.
—Danielle Funiciello, 2018 Happy Rockefeller Research Fellow and  Ph.D. candidate, SUNY Albany
---
Key Dates
Due to the ongoing health crisis, a low-residency fellowship may be possible in 2021, depending upon research topic.
Applications are invited for residence between June 1, 2021 – October 1, 2021, and must be submitted by January 15, 2021.
Successful applicants will be notified of results on February 1, 2021. Awarded candidates must respond with their acknowledgement of acceptance by February 5, 2021.
Application Requirements
A complete application consists of four (4) parts:
A cover letter to librarian@hudsonvalley.org that contains the following:
Name and contact information of the applicant;
A general description or abstract of the research project; and the HHV collections to be consulted (when possible); along with the following three attachments:
(1) A project proposal of 500 words which describes the theme and format as well as how it relates to the Women's History Institute of Historic Hudson Valley; (2) a resume or curriculum vitae; and (3) two letters of recommendation from recent professors or relevant employer.
Submit the application form below.
Eligibility
Only U.S. citizens, permanent residents and foreign nationals who have a valid visa and/or who have been resident in the United States for three years as of January 31, 2018 may apply.
Long-Distance Applicants
No housing is available at Historic Hudson Valley. Fellows must obtain housing based on local availability such as Airbnb.com, VRBO.com, etc. Advice concerning locales, accessibility to Historic Hudson Valley, etc., is available by contacting the Librarian.
Contact
All questions about the Summer Research Fellowships should be directed to the Research Librarian, Catalina Hannan, at librarian@hudsonvalley.org or 914-366-6901. Applicants are strongly encouraged to discuss possible topics and research sources at Historic Hudson Valley and neighboring institutions in advance of submission.
Collections of Historic Hudson Valley
Historic Hudson Valley (HHV) is a not-for-profit organization focused on education and American history. We welcome more than 300,000 visitors annually to our five sites for public tours, school programs, seasonal festivals, and popular events. All of our programming is based in the rich history of the Hudson Valley.
The Library of Historic Hudson Valley offers a broad spectrum of research material related to the cultural and historical significance of the Hudson River Valley. The general book collection consists of more than 15,000 titles. Subject areas include (but are not limited to) early African American history, agriculture, American 18th– and 19th– century culture, art, architecture, biography, cooking, decorative arts, the history of science and technology, social and political history, textiles, women's history, and the works of Washington Irving.
The Library's Special Collections include more than 4,000 rare books and 3,000 manuscripts as well as maps, subject files, prints and microfilm. Among the subjects in the Special Collections are numerous items of interest to researchers in women's history, including the following:
The 1862-1863 journal of Susan Storrow (1844-1865), detailing daily middle class life in the Tarrytown and NYC areas during the American Civil War, including the Draft Riots
The account book of an anonymous 19th-century Rye, NY woman, detailing textiles of the period.
Documents pertaining to two of the enslaved women who resided at Van Cortlandt Manor in Croton-on-Hudson, NY
The letters of Katrina Van Tassel (1845-1915), great-niece of Washington Irving, during a lengthy childhood residence at Irving's Sunnyside
The divorce papers of Gertrude Beekman (1829-1870)
Handwritten and multi-generational receipt books, including inventories of household goods, guides to daily and celebratory foods, and home medical remedies from the 18th and 19th centuries
Letters and notebooks (early-mid 19th century) of female members of the prominent New York Hoffman family, friends of Washington Irving
The Library supports Historic Hudson Valley's mission to restore, preserve, interpret and promote for the public benefit and enjoyment historic landmarks of national significance within the Hudson River Valley. It does this through reference, research, and the dissemination of information and materials for educational and programmatic endeavors.
Library hours are Monday-Friday, 9am to 5pm.  The Library's electronic book catalog is accessible on Worldcat and on HHV's website.
The Institute
The Women's History Institute illuminates the significant contributions made by women in the Hudson Valley, past and present, and takes advantage of Historic Hudson Valley's properties and programmatic themes, many of which focus on domestic life, to reveal the stories of the diverse women who lived and worked at our sites. Through research, on-site and digital interpretation, and a lively roster of programs, the Women's History Institute fosters a deeper understanding of the lives of these and other women of the Hudson Valley, and offers a contemporary audience the resources necessary to take inspiration from their history.
The Fellowship
The Summer Research Fellowship supports the research of college and graduate students into the lives of women residing in the Hudson Valley, particularly during the time period represented in the HHV collections: the 18th and 19th centuries. By allowing these researchers privileged and sustained access to the Library and Archives, HHV will continue to build a body of scholarship that will support new interpretation at our sites as well as future digital products.
 Application
---