Valerie Rockefeller and Dawn Fitzpatrick Are Honored at Women's History Institute Dinner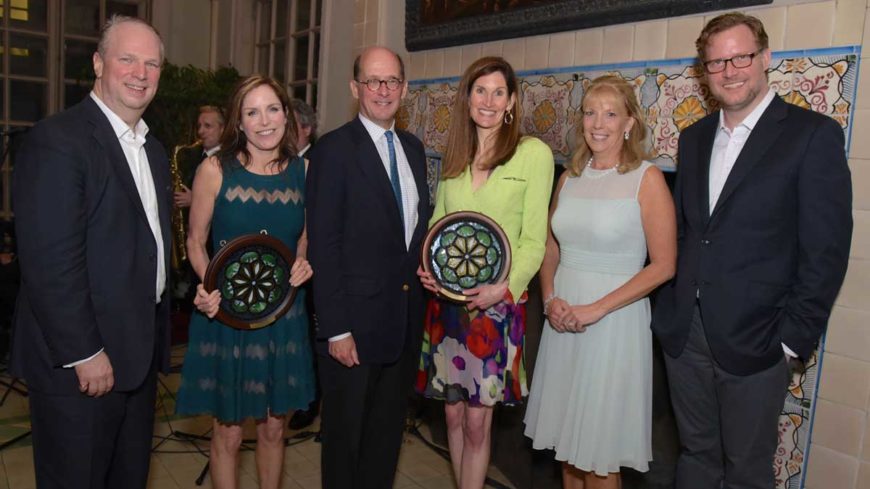 "It's a commonly accepted fact among the Rockefeller men," said Charles P. Rockefeller, "that the Rockefeller women are better at just about everything."
Applause and knowing smiles filled the Playhouse on the Rockefeller Estate, where nearly 150 guests had gathered to honor Valerie Rockefeller, Charles' sister and Chair of the Rockefeller Brothers Fund, and Dawn Fitzpatrick, Chief Investment Officer of Soros Fund Management. The May 19 dinner also supported the Women's History Institute of Historic Hudson Valley and its work to illuminate the substantial contributions made by women of the Hudson Valley, past and present.
Ms. Fitzpatrick, one of the most powerful women on Wall Street and a role model for women in finance, oversees management of $26 billion in investments of one of the nation's leading philanthropists. Ms. Rockefeller, whose background is in government and education, oversees the Fund's strong contingent of female leaders, especially those working on impact investment.
All proceeds from the evening allow the Women's History Institute to accomplish its many programs throughout the year, including the Summer Research Fellowship and Vote Like a Girl (see related stories), workshops, and author presentations.