Pinkster Dancer Inspires World-Renowned Architect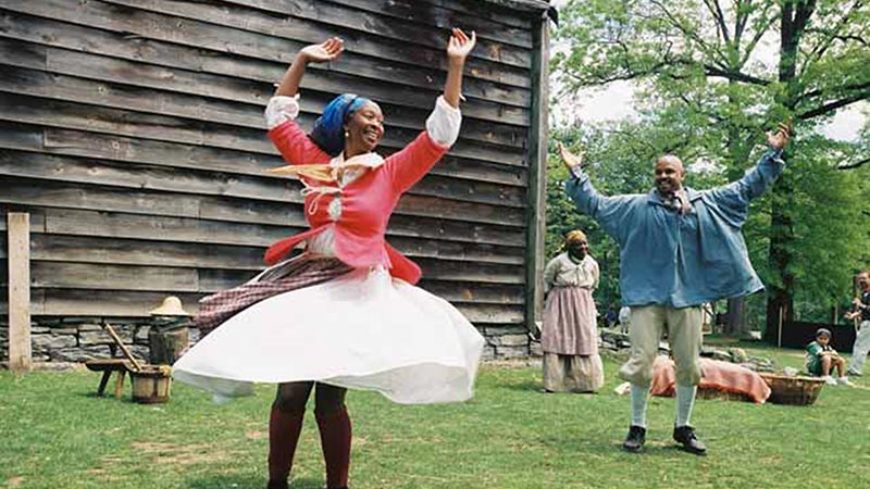 On the ground floor of the National Museum of African American History and Culture in Washington is an exhibition on the building's spectacular architectural design. There you'll find, among the three noted sources of inspiration on display, a picture of an African-American woman dancing jubilantly, skirts twirling and arms raised up to the sky against the backdrop of an old barn. The woman is Judith Samuels, one of Historic Hudson Valley's premier performers at our spring festival Celebrate Pinkster, held at Philipsburg Manor every year in honor of the oldest African-American holiday. You can hear her speak about her personal experience of African-American culture in our new People Not Property documentary here.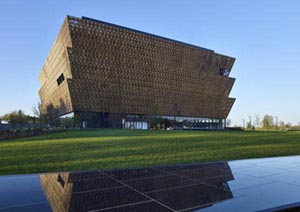 What does a dancer have to do with a monumental building?
It is the gesture of praise evoked by the dancer's uplifted arms that struck Architect David Adjaye, inspiring the museum's ziggurat design: "When I say praise, I envision it as a human posture. It's the idea that you come from the ground up, rather than crouching down or leaning. The form of the building suggests a very upward mobility…This is not a story about past trauma. For me, the story is one that's extremely uplifting…It's not a story of a people that were taken down, but actually a people that overcame and transformed an entire superpower into what it is today. The sacrifices of the African-American people have made America better."
HHV couldn't agree more, and we're proud to have played some small part in the creation of this historic museum.