Collection Highlight: Catherine Van Cortlandt's Mourning Miniature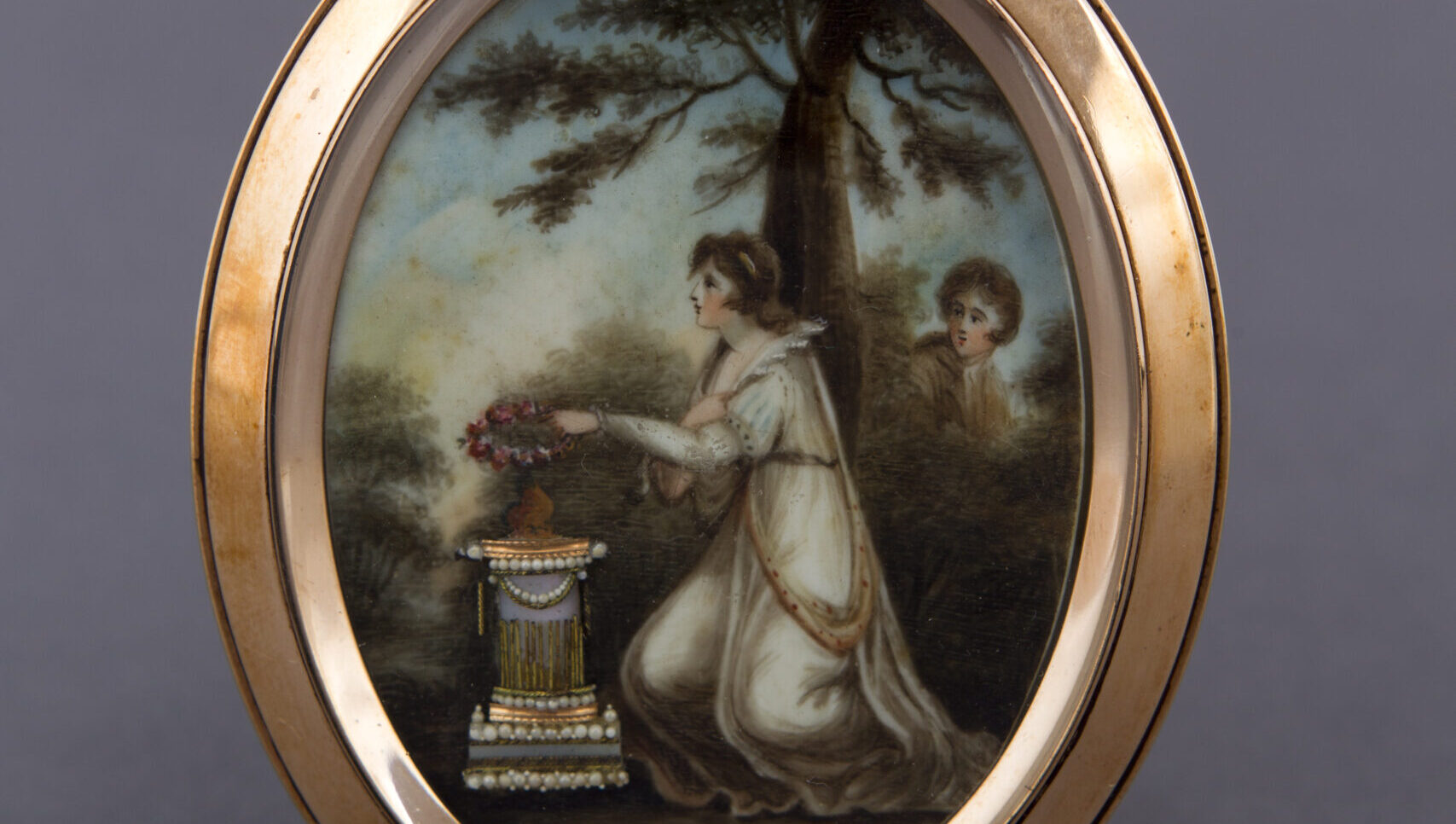 Mourning miniature (front). Attributed to John Ramage (1748-1802). New York, c. 1791-1794. Watercolor on ivory, gold, seed pearls, silk, human hair and other materials. Historic Hudson Valley (VC.58.26).
Among the treasures of Historic Hudson Valley's Van Cortlandt family collection is an exquisite piece of mourning jewelry, an oval pendant of a young woman in classically-inspired dress, kneeling to lay a wreath at an altar. A young man peers over the bushes just behind her shoulder. Created between 1791 and 1794, this tour-de-force miniature is rendered in watercolor on ivory with precise detail. Seed pearls, gold, rose gold, and mother-of-pearl give the altar a three-dimensional effect. On the reverse, behind glass, a small lock of dark hair rests on blue silk. Human hair, fashioned into jewelry of all types in the 18th and 19th centuries, was a tangible link to a beloved family member or dear friend, living or deceased. While hairwork was often incorporated into mourning accessories, other imagery also was used to signal that a pendant or ring was intended for a mourner. Willows, urns, crosses, names or initials, even skull motifs, appear in this type of jewelry.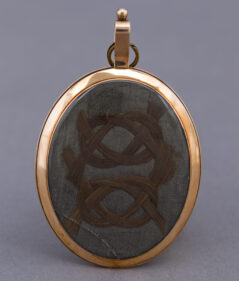 The pendant belonged to Catherine (Clinton) Taylor Van Cortlandt (1770–1811), the daughter of a prominent patriot family. Catherine fell in love with Captain John Taylor, a British soldier. A Revolutionary-era Romeo and Juliet, the two were married secretly (perhaps sometime in the late 1780s) but parted when John returned to England, for reasons yet unknown. They likely planned to announce their marriage upon John's return from England. That was not to be—he died in 1791.  
Caty, as she was called in family letters, was a young widow when she met her second husband, Pierre Van Cortlandt Jr., in Albany. They wed in 1801. Though Pierre remarried shortly after Caty's 1811 death, her pendant remained in the Van Cortlandt family and is now part of the curatorial collection cared for by the team at Historic Hudson Valley.  
This tiny masterpiece, with imagery that suggests a departed lover watching over his spouse, connects to an emotionally complex story of devotion, a secret union, and untimely separation. Thanks to the pendant's survival we can understand not only one woman's experiences, but how personal objects convey stories that transcend time.