K-12 Reading List for Women's History Month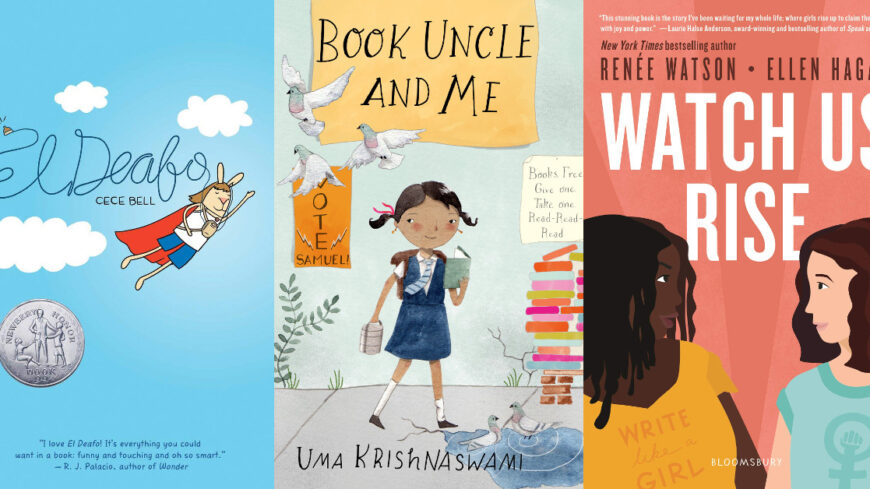 This list includes a selection of stories of amazing women and girls who stood up for what they believed in, from suffrage to civil rights and everything in between.
Borrow these books from your library or support your local bookstore by purchasing them on bookshop.org and indiebound.org, sites that make it easy to shop local, online. You can also order them through AmazonSmile and give back to organizations like Historic Hudson Valley by making us your charity of choice.
Elementary (K-5) 
Emma's Poem: The Voice of the Statue of Liberty
Linda Glazer, illustrated by Claire A Nivola
Grades Preschool-3
Write On Mercy! The Secret Life of Mercy Otis Warren 
Gretchen Woelfle
Grades K-3
Who Says Women Can't Be Doctors?: The Story of Elizabeth Blackwell
Tanya Lee Stone
Grades K-3
Elizabeth Started All the Trouble
Doreen Rappaport
Grades K-3
At the Mountain's Base
Traci Sorell
Grades K-3
Ballots for Belva: The True Story of a Woman's Race for the Presidency
Sudipta Bardhan-Quallen, illustrated by Courtney Autumn Martin
Grades K-3
Mae Among The Stars
Roda Ahmed
Grades K-3
Ordinary, Extraordinary Jane Austen
Deborah Hopkinson
Grades K-2
Mary Walker Wears The Pants: The True Story of the Doctor, Reformer, and Civil War Hero
Cheryl Harness
Grades K-3
The Only Woman in the Photo: Frances Perkins & Her New Deal for America
Kathleen Krull
Grades K-3
All the Way to the Top: How One Girl's Fight for Americans with Disabilities Changed Everything
Annette Bay Pimentel
Grades K-3
The Who Was Series
Various authors, published by Penguin Random House
Grades 2-3
That's Not Fair! / ¡No Es Justo!: Emma Tenayuca's Struggle for Justice/La lucha de Emma Tenayuca por la justicia
Carmen Tafolla and Sharyll Tenayuca, illustrated by Terry Ybáñez
Grades K-3
Sonia Sotomayor: A Judge Grows In The Bronx/La Juez Que Creció En El Bronx
Jonah Rodriguez, illustrated by Edel Rodriguez
Grades K-3
Separate Is Never Equal: Sylvia Mendez and Her Family's Fight for Desegregation
Duncan Tonatiuh
Grades K-3
Buffalo Bird Girl
S. D. Nelson
Grades 1-5
We Are Water Protectors
Carole Lindstrom, illustrated by Michaela Goade
Grades K-3
Brave Girl: Clara and the Shirtwaist Makers' Strike of 1909
Michelle Markel
Grades K-3
Ho'onani Hula Warrior
Heather Gale
Grades K-3
A Song for Gwendolyn Brooks
Alice Faye Duncan, illustrated by Xia Gordon
Grades: 1-3
How Women Won the Vote: Alice Paul, Lucy Burns, and Their Big Idea
Susan Campbell Bartoletti, illustrated by Ziyue Chen
Grades 2-3
Ida B. Wells: Let the Truth Be Told
Walter Dean Myers, illustrated by Bonnie Christiansen
Grades Preschool-3
Around America to Win the Vote: Two Suffragists, a Kitten, and 10,000 Miles
Mara Rockliff, illustrated by Hadley Hooper
Grades K-3
Bold & Brave: Ten Heroes Who Won Women the Right to Vote
Kirsten Gillibrand, illlustrated by Maira Kalman
Grades 1-4
Soldier's Secret: The Story of Deborah Sampson
Sheila Solomon Klass
Grades 3-5
The Hope Chest
Karen Schwabach
Grades 3-5
Woman in the House (and Senate): How Women Came to Washington and Changed the Nation
Ilene Cooper, illustrated by Elizabeth Baddeley
Grades 3-5
Women Win the Vote!: 19 for the 19th Amendment
Nancy B. Kennedy
Grades 3-5
The Evolution of Calpurnia Tate
Jacqueline Kelly
Grades 3-5
Maya Lin: Thinking With Her Hands
Susan Goldman Rubin
Grades 3-5
Book Uncle and Me
Uma Krishnaswami
Grades 2-5
Mary and the Trail of Tears
Andrea L. Rogers
Grades 3-5
Amelia and Eleanor Go For a Ride
Pam Munoz Ryan, illustrated by Brian Selznick
Grades 3-5
El Deafo
Written and illustrated by Cece Bell
Grades 3-5
Indian No More
Charlene Willing McManis
Grades 3-5
Rightfully Ours: How Women Won the Vote, 21 Activities (For Kids series)
Kerrie Logan Hollihan
Grades 3-5
I Dissent: Ruth Bader Ginsburg Makes Her Mark
Debbie Levy
Grades K-5
Shaking Things Up: 14 Young Women Who Changed the World
Susan Hood
Grades 3-5
The Taxing Case of the Cows: A True Story about Suffrage
Pegi Deitz Shea
Grades K-5
George
Alex Gino
Grades 3-7
Never Caught, the Story of Ona Judge: George and Martha Washington's Courageous Slave Who Dared to Run Away; Young Readers Edition
Erica Armstrong Dunbar and Kathleen Van Cleve
Grades 4-8
Middle School and High School (Grades 6-12)
Roses and Radicals: The Epic Story of How American Women Won the Right to Vote
Susan Zimet
Grades 5-6
A Time For Courage: The Suffragette Diary of Kathleen Bowen
Kathryn Lasky
Grades 5-7
Get a Grip, Vivy Cohen!
Sarah Kapit
Grades 5-7
Give Us the Vote!: Over Two Hundred Years of Fighting for the Ballot
Susan Goldman Rubin
Grades 5-8
The Birchbark House
Louise Erdrich
Grades 5-8
Wheels of Change: How Women Rode the Bicycle to Freedom (With a Few Flat Tires Along the Way)
Sue Macy
Grades 5-9
Dear Miss Breed: True Stories of the Japanese American Incarceration During World War II and a Librarian Who Made a Difference
Joanne Oppenheim
Grades 6-8
#NotYourPrincess: Voices of Native American Women
Edited by Lisa Charleyboy and Mary Beth Leatherdale
Grades 7-12
Warriors Don't Cry
Melba Patillo Beats
Grades 7-12
Does My Head Look Big In This
Randa Abdel-Fattah
Grades 8-12
Watch Us Rise
Renée Watson and Ellen Hagen
Grades 8-12
Passenger on the Pearl: The True Story of Emily Edmondson's Flight From Slavery
Winifred Conkling
Grades 9-12
A Shining Thread of Hope: The History of Black Women in America
Darlene Clark Hine
Grades 9-12
I Am Malala: The Girl Who Stood Up for Education and Was Shot by the Taliban
Malala Yousafzai
Grades 6-12
Hearts Unbroken
Cynthia Leitich Smith
Grades 10-12
This Time Will Be Different
Misa Sugiura
Grades 10-12
Votes for Women! American Suffragists and the Battle for the Ballot
Winifred Conkling
Grades 8-12
No One is Too Small to Make a Difference
Greta Thunberg
A Black Women's History of the United States
Daina Ramey Berry and Kali Nicole Gross