On the Run with the Headless Horseman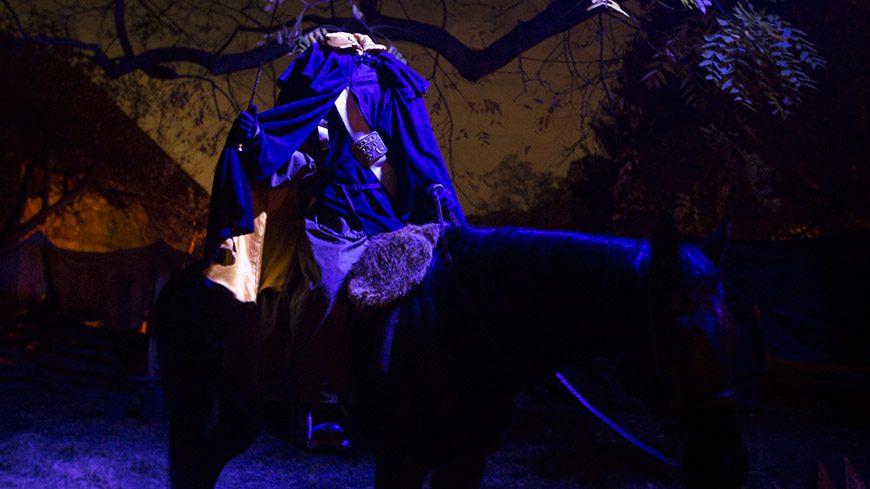 Quick—how old is the Headless Horseman? If you answered "older than the United States," you'd be right, since everyone's favorite Hessian mercenary must have lost his noggin some time before the British surrendered to the American Army at Yorktown.
If you answered "ageless—he's not real," you'd be right, too. The creepy decapitate is a fiction, the antagonist of Washington Irving's most famous story, The Legend of Sleepy Hollow, published in 1820. In that tale, the Headless Horseman might be a ghost that leaves his resting place in the cemetery at the Old Dutch Church to ride "in nightly quest of his head" around Sleepy Hollow. Or he might be a hoax, dreamt up to torment the schoolmaster Ichabod Crane, and test his courage (spoiler: he doesn't have any). But whether Irving's Legend told the story of a hoax or a haunting ended up mattering very little: readers loved it either way, and they quickly made it their own.
It's been nearly 200 years since Irving's story was first published, but the American impulse to retell The Legend just won't quit. Depictions of the Headless Horseman (in pursuit of Ichabod) are everywhere, if you stop to look. His likeness hangs in the National Gallery of Art in Washington, it is used as U.S. postage, and can be found in the pages of Marvel Comics and Judy Blume. The Legend of Sleepy Hollow has been given a Disney makeover (comic), the Scooby Doo treatment (silly), and the full Tim Burton (bloody, with a side of Johnny Depp). You can make your own Headless Horseman on Minecraft, or buy Headless Horseman scented candles on Etsy. FOX's Sleepy Hollow, which takes Irving's story as its tacit point of departure, casts the Horseman as Death, plain and simple, and arms him with a semiautomatic weapon. And if you still haven't had your fill, chances are your local CVS has a life-size plastic Horseman in the Halloween aisle right now—horse and gourd-like weapon not included.
All these remakes beg the question: does anyone remember the original work, with all its witchy atmospherics, its dark and comic foreboding, its startlingly irresolute resolution? There's a reason Irving's tale has been so completely absorbed into the American imagination: because it is a true page-turner, at turns funny, poignant, and creepy in the extreme. We'd expect no less of the first American ghost story, which is what The Legend of Sleepy Hollow truly is—making the Horseman our first American ghost, and Sleepy Hollow our first "haunted" region.
Need more convincing? Check out Troy Grady's captivating trailer for the new Penguin Classics edition of The Legend of Sleepy Hollow and Other Stories, and then meet Ichabod, Katrina Van Tassel, Brom Bones and—of course—the Horseman all over again, in Irving's mesmerizing text. There's a reason Sleepy Hollow has become shorthand for Halloween. Bring your fastest horse, and whatever you do, don't look back.
To purchase the book, click here.
Want to meet the Headless Horseman himself? Plan a visit to Horseman's Hollow this fall!
Elizabeth L. Bradley is the editor of the new Penguin Classics edition of Washington Irving's The Legend of Sleepy Hollow and Other Stories, as well as Irving's A History of New York. She is the author of Knickerbocker: The Myth Behind New York and a consultant to Historic Hudson Valley.