HHV Introduces Interactive Documentary Resource Focused on Northern Colonial Slavery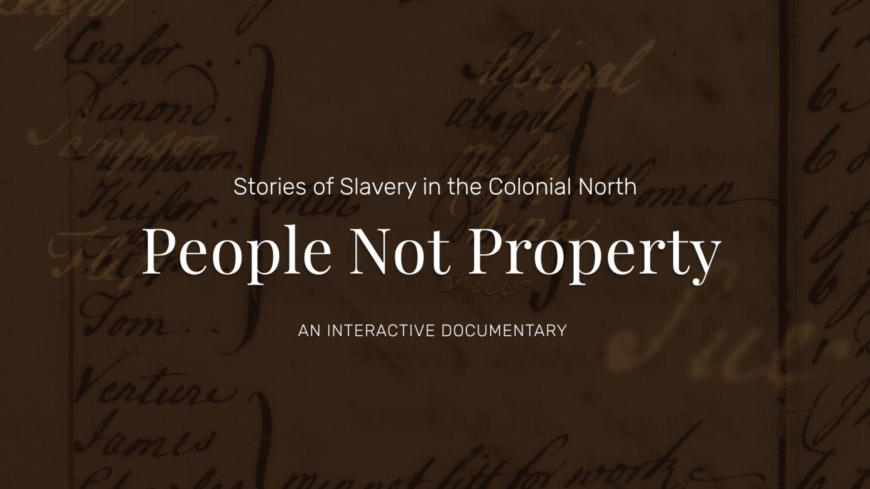 Interactive documentary presents HHV's newest phase of sharing the stories and lives of enslaved people.
Dina, Sampson, Abigal, Charles.
Sam, Caesar, Venture and Massey.
The hand-written names slowly illuminate the screen, floating over a parchment inventory dated 1750.
These are the enslaved individuals who lived and worked at Philipsburg Manor in Sleepy Hollow, New York, at the time of Adolph Philipse's death. Their age and gender are noted, alongside an accounting of the landowner's other property: two silver tankards, six flax spinning wheels and a miner's pick axe. And so the inventory goes.
People Not Property, Historic Hudson Valley's (HHV) new digital documentary, weaves personal stories, videos, photographs, poetry, art, timelines and imagined silhouettes of actual enslaved men and women to tell the story of slavery in the colonial North. This dynamic new phase of HHV's ongoing work on the subject, in concert with the film Runaway and other assets on HHV's enhanced website, forms the foundation of additional investigation into this part of American history.
The documentary allows HHV to expand on the story that has been told at Philipsburg Manor for more than two decades and provide a more comprehensive and sweeping view of slavery in the North. Working with HHV's African American Advisory Board and additional experts in the field to ensure accuracy and sensitivity, this multimedia deep-dive reveals how pervasive slavery was and how the colonial economies of North and South depended not only on the trade of enslaved people but on their labor and expertise.
And that can be a very difficult story to tell and to hear.
"Many people would prefer to forget that the North had a role," said Elizabeth Bradley, HHV's Vice President of Programs and Engagement. "But we are all complicit, and our very lives rely on financial frameworks and economies originally built through slavery."
The slave trade between Africa, the Caribbean, and the provisioning plantations in the Northern colonies built the infrastructure we take for granted in New York, Newport, and throughout New England.
People Not Property is loosely structured like a book with four main chapters: "Defining Slavery," "Being Enslaved," "Choosing Resistance," and "Pursing Justice." Topics within those sections delve into the personal lives of the enslaved and their communities, the repercussions of resistance or running away, existing customs, and political and economic structures.
The interactive documentary presents the very limited primary documents that are available for reconstructing history from the enslaved point of view in an effort to bring personal human stories forward.
"The only way we can come to know the personal stories is through very painful documents, court records, advertisements for fugitives, if someone was purchased or sold," Bradley said. "But it can help you understand the life of Caesar, the miller at Philipsburg Manor, to read his name listed with a cash value after the death of his enslaver, an object treated as property. You can't deny it happened. You absolutely have to look it in the face."
Jack and Parthenia, an enslaved married couple in the 1700s, lived on separate properties in Pennsylvania. A video on People Not Property imagines how they used negotiation in order to reunite. The interactive nature of the website also presents choices the enslaved faced and likely outcomes if they wanted to, for example, change their working conditions.
"By putting a face and name to people we'll never know, we've restored humanity to lives reduced to horrible statistics," Bradley said. "We've created a resource I hope will allow people to come to terms with our shared past."
People Not Property has been made possible by a series of grants beginning in 2015 from the National Endowment for the Humanities. Any views, findings, conclusions, or recommendations expressed in the documentary do not necessarily represent those of the National Endowment for the Humanities.