Schuyler Successors: The Big Small World of the Eighteenth-Century Hudson River Valley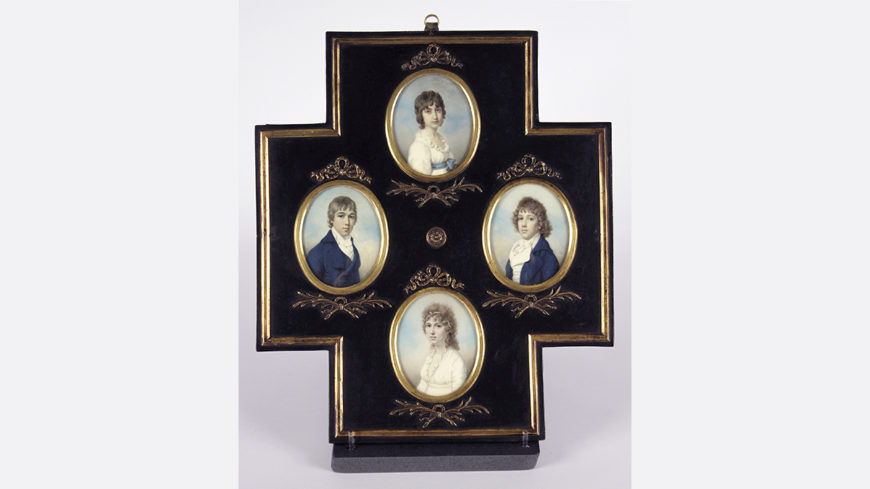 By Danielle Funiciello, PhD candidate, SUNY Albany
Margaretta "Happy" Rockefeller Fellow, Historic Hudson Valley, 2018
We tend to think of the world as a somehow "bigger" place in the eighteenth-century. Without phones, internet, or air travel, it certainly seems like it must have been harder to connect globally in 1768 than in 2020, for example. However, in the collection of Historic Hudson Valley, there is a set of four miniature portrait—two girls and two boys, set in a cruciform frame—that makes that world seem much smaller and more interconnected. Beyond the beauty of the paintings themselves, these miniatures allow us to tell stories not only of the four sitters, but of their American mother, their British father, and the Italian painter that they met through French associates. They provide insight into just how mobile one Hudson River Valley family really was, enabling them to shrink the big world of the eighteenth century. More exciting still for readers who are fans of Hamilton: An American Musical, these miniatures help to elaborate the life of one of the "Schuyler Sisters" of Broadway fame, for these four portraits are the children of Angelica Schuyler Church and her husband John Barker Church.
From the top, clockwise, the four paintings are Elizabeth Matilda Church (1783-1867), John Barker Church, Jr. (1781-1865), Catharine "Kitty" Church (1779-1839), and Philip Church (1778-1861) painted by John Trossarelli. Philip was the eldest of at least seven children born to the Churches after their marriage, an elopement in 1777. Angelica and John Sr. started their lives together as the "Carters"—an alias John used as an Englishman selling supplies to the Continental army throughout the American Revolution. Because of this commissary work, the "Carters" travelled quite regularly to military encampments, even with their infant children. Thus we can only speculate where Philip and Kitty were born but both were baptized in Boston. John Barker, Jr. came next, born at Angelica's father's home (Schuyler Mansion) in Albany. When the Revolution, and thereby John "Carter's" business, came to a close, the family moved to Europe and took up Church's real surname. Though they intended to live in England, they first went to Paris to collect on debts owed to John, Sr. and they stayed for almost a year, during which time the fourth sitter, Elizabeth, was born. They would return to Paris on several occasions before the outbreak of the French Revolution in 1789. The Churches had at least three more children; Richard Hamilton (1785) born and died in infancy in Paris, Alexander (1792) born in London, and Richard Stephen (1799) born in New York City. The children's birth locations give us a clear view of the family's mobility.[1]
In France, the Churches befriended not only numerous French elite, but also visiting foreigners, including Thomas Jefferson, then the U.S. Minister to France, and British artist-couple Richard and Maria Cosway, who became some of their closest friends. These relationships were not only important as political and social connections, but also in the story of the Trossarelli miniatures.[2] The friendship with the Cosways followed the Churches to London, where they acted as not only companions, but as patrons to the pair of artists. This sponsorship seated the Cosways in a network of artists, poets, performers, and the diplomats and elites who supported them financially. John (or Giovanni) Trossarelli's history is a little blurry but that he was one of the artists in this British circle, there is no doubt. According to Daphne Foskett, Giovanni Trossarelli was born in Turin, Italy, and came to England around 1790.[3] Based on the ages and dress of the Church children, Trossarelli likely painted the miniatures around 1795. It is unclear if Trossarelli worked with Richard Cosway during his time in London, but the cloudy blue backgrounds imply that he was at least inspired by Cosway's miniatures. The fact that he painted the children of some of the Cosways' dearest friends also makes it likely that the artists knew each other personally.
Whatever the case, in 1797, soon after the paintings were completed, the Churches finally returned to New York State, bringing the miniatures with them. From there, the children, no strangers to travel, fanned out. Philip founded a town named Angelica, after his mother, in western New York and remained there until his death. Kitty maintained a lifelong correspondence with Martha and Maria Jefferson, with whom she attended school in Paris, eventually moving back to Boston where she had been baptized and married Bertrand Cruger. John Barker, Jr. spent a good deal of his time in the Hudson River Valley before moving back to Paris for the last thirty years of his life. Elizabeth married Rudolph Bunner, and lived out her life in Oswego, likely to be near her aunt, Angelica's youngest sister, Catharine, who was only two years Elizabeth's senior.
Though the sitters scattered, the portraits remained in, or returned to the Hudson River Valley. They found their home in the collections of Historic Hudson Valley where, paired with extensive papers from the family of Angelica's brother Philip Jeremiah Schuyler of Rhinebeck, New York, they continue to tell the story of an interconnected and well-travelled family from colonial New York.
[1] Genealogical information and dates for the family is taken from a report prepared by an unknown author for Schuyler Mansion State Historic Site in Albany, New York. It was most likely sourced from: Christoph, Florence A., The Schuyler Families in American Prior to 1900. Albany, NY: The Friends of Schuyler Mansion, 1992.
One of the listed children, "Angelica," does not seem to exist in any records. It is this author's belief that her existence was a misinterpretation of a letter in which Angelica Schuyler Church debated naming Elizabeth Matilda "Angelica" instead ("Angelica Church to Elizabeth Hamilton, 27 January 1784" in Hamilton, Allan McLane, The Intimate Life of Alexander Hamilton, New York: Charles Scribner's Sons, 1910.)
[2] For more on Angelica Church's political connections see Funiciello, Danielle. "Angelica Schuyler Church: An expert networker taps her powerful networks," in New York Archives Magazine, Summer 2018, Vol. 18, No. 1.
[3] Daphne Foskett, Collecting Miniatures. Suffolk, UK: ACC Art Books, 1979.