Six Surprising Places to See Art in the Hudson Valley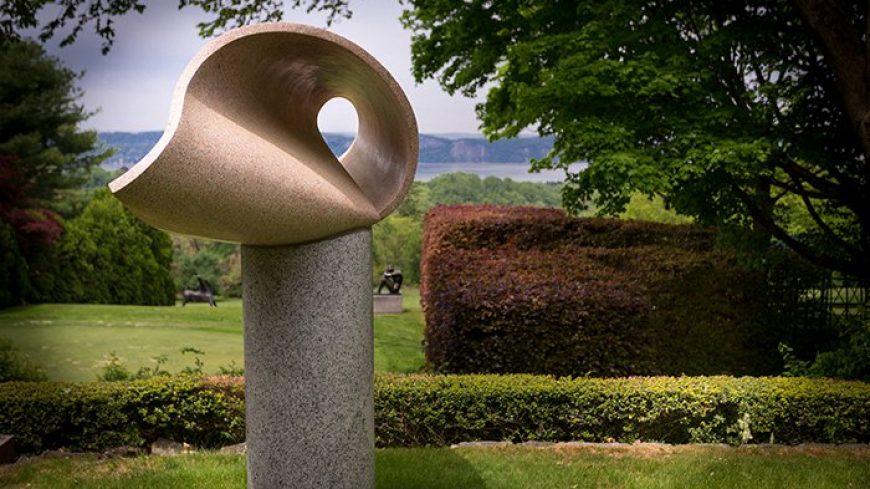 Discovering art doesn't necessarily mean trekking into the city to visit a major museum. There are plenty of hidden gems all over the Hudson Valley, some of them in the most unexpected places. We've selected six spots where the unique location only adds to the experience of the art itself.
1. Kykuit 
The six-story stone home to the Rockefeller family, designed by Chester Holmes Aldrich and Williams Adams Delano, can be considered a work of art by itself. But the family, who had a hand in creating the Museum of Modern Art, also filled its rooms and grounds with paintings and sculptures. In addition to the artwork that fills the main house, the galleries on the ground floor display more than 100 works and Nelson Rockefeller added 70 sculptures to the gardens. Take a tour to discover pieces by Alexander Calder, Andy Warhol, Henry Moore, a whole collection of Picasso tapestries, and more.
381 North Broadway, Sleepy Hollow. hudsonvalley.org/
2. The Union Church at Pocantico Hills 
This quiet, unassuming church in Westchester is the home to no less than 10 modern masterpieces—Henri Matisse's last work of art, the Rose Window, and nine stained glass windows by Marc Chagall. The Rose Window was commissioned by Nelson Rockefeller to honor his mother, Abby Aldrich Rockefeller, and if you look closely you'll notice that Matisse designed the window so that none of the patterns would repeat. Chagall was commissioned to create the large, stunning "The Good Samaritan" window as a tribute to John D. Rockefeller, and eight smaller windows in the nave were designed as memorials to other Rockefeller family members.
555 Bedford Road, Pocantico Hills. hudsonvalley.org
3. The Seligmann Center 
Kurt Seligmann was a Swiss-American Surrealist artist. Fleeing the Nazis in 1939, he and his wife landed in New York. They bought a 50-acre farm in Sugar Loaf, where they entertained artists like Max Ernst, Marcel Duchamp, and Alexander Calder—and where Seligmann produced his own art. Today the estate hosts art exhibits and performances that examine surrealism, and it's the home of the Robert Fagan Art History Library & Study Center—the only art library in Orange County.
23-26 White Oak Drive, Sugar Loaf. occitizensfoundation.org
4. The School in Kinderhook 
You wouldn't expect to find a 30,000 square foot contemporary art gallery in a small town with a population of just 8,500, but art dealer Jack Shainman has done just that with The School in Kinderhook. Literally housed in an former school built in 1929, the gallery has rotating displays of large installations from international artists. As an added bonus, when you're in Kinderhook you can also visit the Van Alen House—which is thought to be inspiration for Washington Irving's Van Tassel family farm in The Legend of Sleepy Hollow.
25 Broad Street, Kinderhook. jackshainman.com/school/
5. Dia:Beacon 
Dia:Beacon took over a former Nabisco box-printing factory overlooking the Hudson River and proceeded to design galleries around artwork itself. Visitors will find massive works by Dan Flavin, Richard Serra, Michael Heizer, and Sol LeWitt, among others, and the space is lit almost entirely by natural light from 34,000 square feet of skylights. Make sure to step outside to hear the sound installation by Max Neuhaus.
3 Beekman Street, Beacon. diaart.org
6. Opus 40 
Here's an art experience that you can walk through, over and on—this mammoth six and one-half acre bluestone sculpture in Saugerties has ramps, tunnels, pools, and even underground pathways. The entire piece is made with local stone and was laid by hand by one man, Harvey Fite, over a period of 37 years. There's also a Quarryman's Museum, featuring historic tools, and an art gallery on site.
50 Fite Road, Saugerties. opus40.org