The Situation of Her Writing Desk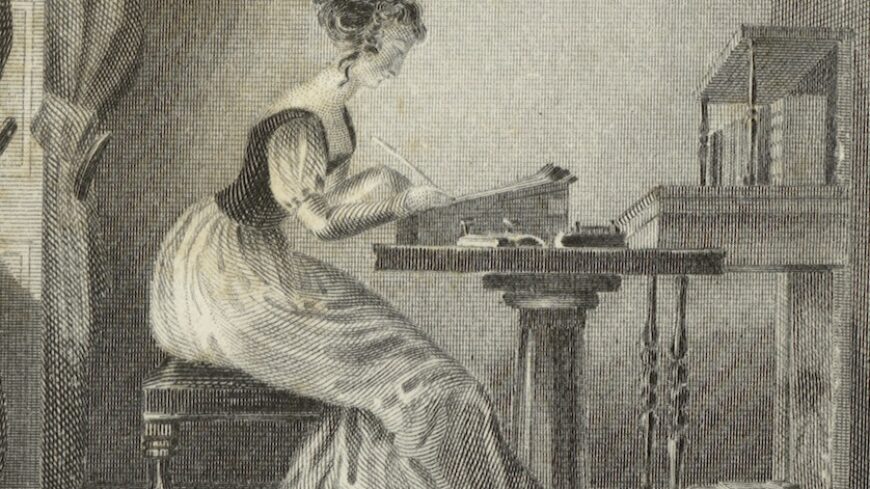 By Morgan Graham, PhD candidate, University of Minnesota
Margaretta (Happy) Rockefeller Women's History Institute Fellow, Historic Hudson Valley, 2021
When I sit down to write a letter, I start by writing the name of my recipient. And then, with the friend I'm writing to in mind, I might tell her how I've spent my week, ask questions, or share the juicy piece of gossip I picked up at a party the other day. I might wish we were closer so we could see each other more. I might apologize for taking so long to reply to her letter. And each of the things I write will tell my friend more about me: who I am, what I value, and what I think about.
When women write letters, they make choices about how to represent themselves. The details a nineteenth-century woman included in her letter, the stories she told, and the information she omitted all tell us something about that woman. We can learn about her personality, interests, and values, and get a sense of how she wanted her recipient to understand her.
The Importance of Writing Desks in Letter-Writing Culture
But we don't only learn about a woman from the content of her letters. The appearance of her letters also tells us something about her. Nineteenth-century middle- and upper-class women could choose the stationery they wrote on, the ink they used, and even how their handwriting looked.[i] They might spray perfume on a letter or use high-quality paper. Each physical element of a letter suggested the value a woman ascribed to letter writing, the money she could spend on materials, and the care she took in her writing process.
Nineteenth-century women valued the appearance of letters. Etiquette books encouraged neat handwriting and modeled the proper way to seal and address a letter. Miss Leslie's Behaviour Book reminds ladies that "in folding a letter, let the breadth … far exceed the height. A letter folded tall is ridiculous, and one verging towards squareness looks very awkward." A woman who made crisp folds prevented her letters having "an irregular, unsightly appearance."[ii]
Writing attractive letters was so important that women had a desk dedicated to the task. The Victorian writing desk was a small box with a sloped lid that doubled as a writing surface.[iii] Women could use the compartments inside to store their writing tools: pens, paper, letter openers, scissors, and ink. Writing desks were portable, so they could be carried from room to room inside a house or packed with the luggage for traveling.[iv] Wherever a woman went, she could take her writing desk with her and access the tools she liked to use.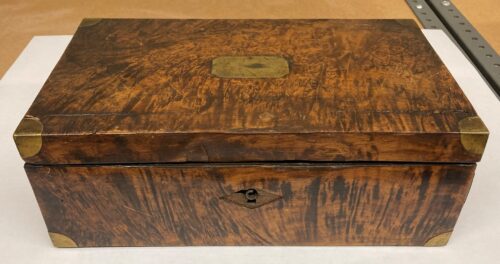 Eliza Storrs Forgets Her Writing Desk
Eliza Storrs (1814-1837)[v] is a primary correspondent in the Hoffman collection at Historic Hudson Valley. Eliza was close friends with Emma Nicholas (1816-1866), a member of the Hoffman family. Eliza's letters are thoughtful and witty, and she and Emma corresponded regularly from at least 1835 until Eliza's death in 1837.
Eliza, like other nineteenth-century women, took pride in the appearance of her letters. This care becomes especially evident in an 1836 letter to Emma, which Eliza begins by acknowledging that this letter will not live up to her standard. She has gone to visit her grandmother and left her own writing desk at home. She laments that:
After having made several successful attempts to mend a pen with my scissors, I have at last given up in despair […] I was foolish enough to leave pens, paper, knife and all, at home, and must be contented with the best I can find now. Grandmama is so old, that she can neither see to read or write, and therefore does not know the situation of her writing desk[.][vi]
Eliza is dissatisfied with her grandmother's writing materials because she knows that the appearance of a letter says a lot about the woman who wrote it. Without her own writing desk and tools, Eliza won't be able to represent herself the way she wants to. She can only hope "that [Emma's] eyes will be so blinded by affection that the crooked marks, halformed [sic] letters, and all which is as it should not be will be passed over unseen."[vii]
Eliza does not want this letter to serve as a representation of her. If she were home, and if she had her own materials, the letter would look better—more up to her standard, and better suited to the image of herself she wants to portray.
The writing desk, and the supplies it holds, allowed a nineteenth-century woman to control her image. She could fill her desk with high-quality materials to show the care she took in writing. This ensured that the appearance of her letter would represent her well.
The Importance of Writing Desks in Women's Lives
But the writing desk could play an even larger role in a woman's life than just as a receptacle for writing materials. Women could use the writing surface to manage accounts or pay bills. And they could store old letters, keepsakes, and even money in hidden compartments.[viii] The writing desk represented a woman's writing process as well as her immediate, practical concerns.
This was true for the young Jane Austen, who nearly lost her writing desk while traveling. She wrote of the incident in a 1798 letter, relating that:
 [M]y writing and dressing boxes had been by accident put into a chaise which was just packing off as we came in, and were driven away towards Gravesend in their way to the West Indies. No part of my property could have been such a prize before, for in my writing-box was all my worldly wealth.[ix]
Austen had stored her savings of seven pounds inside.[x] Her claim that "in my writing-box was all my worldly wealth" surely refers to those savings, but it also suggests the importance of a writing desk at the center of a woman's life.
The writing desk could function as an extension of a woman's identity. Like the modern-day smartphone—which totes mobile wallets, texting apps, and social media, guarded by password protection and Face ID—the writing desk was a receptacle for things that mattered most to women.
In locked, secret compartments, women could safeguard special objects. And they used their desks to stay in touch, by letter, with friends and family. To lose a writing desk would be to lose everything inside it—which, for Austen, was "all my worldly wealth."
Ornate Writing Desks and the Value of Appearance
One writing desk at Historic Hudson Valley dates to 1820. When the desk is open, the writing surface can be lifted to reveal a compartment that contains mother-of-pearl writing tools. These tools include a sand dispenser, quill pen, letter opener, steel scissors, and a seal, all items a woman would have needed to write letters. The desk's surfaces are lined with green silk velvet and green watered silk. The corners are inlaid with brass.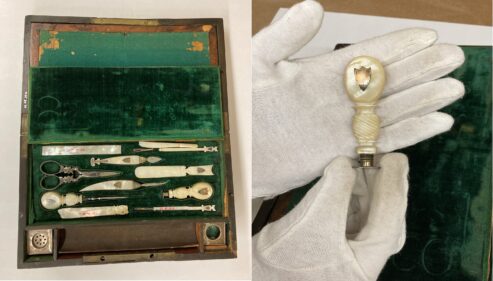 In addition to providing writing and storage space, the attractive appearance of a writing desk signaled its owner's good taste.[xi] The owner of this desk at Historic Hudson Valley chose one with delicate details, made from valuable materials. Her desk is lovely, but there were even more extravagant writing desks produced in the nineteenth century.
Victorian manufacturers marketed men's and women's desks differently. Men's writing desks were large, plain, and functional, designed for business use. The quality of the wood and other materials in a man's writing desk signaled his social status.[xii]
Women's writing desks were smaller and more elaborate than men's. Manufacturers advertised the rare woods used to construct a desk, or the scenes illustrated on its lid. Women's writing desks could be lined with fine fabrics or adorned with jewels or gold. Manufacturers used words like "'enrichments,' 'rich,' 'highly decorated,' 'fancy edges,' [and] 'highly ornamented'" to market women's desks.[xiii]
These marketing strategies suggest that nineteenth-century women valued the appearance, in addition to the functionality, of their desks. When a woman chose a writing desk, she selected an opulent piece of furniture to represent her, as well as a place to store her pens, ink, and valuables.
Conclusion
Eliza Storrs deplored the "situation" of her grandmother's writing desk when she left her own at home. She lamented the fact that, without her pens, paper, and ink, she would not be able to represent herself the way she wanted to. And she felt vulnerable to Emma's judgment. Eliza did not want to be misunderstood.
Eliza's letter, and the writing desk in the collection at Historic Hudson Valley, provide an invaluable glimpse into the ways nineteenth-century women thought about letter writing. Each element of a letter's construction and appearance said something important about the woman who wrote it. Nineteenth-century women knew that, in every part of their letter-writing process, they were representing themselves.
[i] Miss Leslie, Miss Leslie's Behaviour Book: A Guide and Manual for Ladies (Philadelphia: T.B. Peterson and Brothers, 1859), 165.
[ii] Leslie, 156.
[iii] David Harris, Portable Writing Desks (Buckinghamshire, UK: Shire Publications, Ltd, 2001), 5.
[iv] Harris, 14-16.
[v] Charles Storrs, The Storrs Family: Genealogical and Other Memoranda (New York: Priv. print., 1886), 418, 426.
[vi] "Eliza Storrs Letter" (July 8, 1836), Hoffman Family Collection, Historic Hudson Valley.
[vii] "Eliza Storrs Letter."
[viii] Catherine J. Golden, Posting It: The Victorian Revolution in Letter Writing (Gainesville, FL: The University Press of Florida, 2009), 142, 137-38.
[ix] Harris, 17.
[x] "Jane Austen's Writing Desk and Spectacles," British Library (blog), accessed July 30, 2021, https://www.bl.uk/collection-items/jane-austens-writing-desk.
[xi] Golden, 139-42.
[xii] Golden, 139-40.
[xiii] Golden, 140.