Actor Carson Elrod on Going Silent in The Unsilent Picture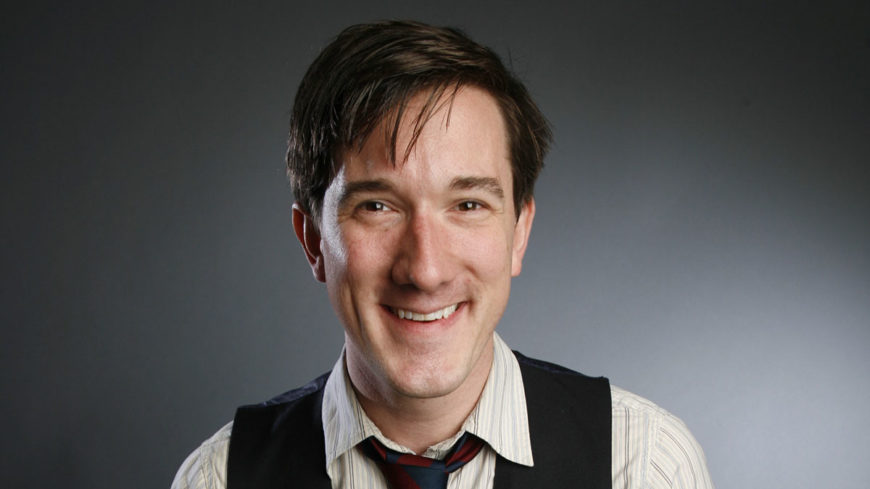 The Unsilent Picture is a stroll through another time and different style of film-making. The film includes an ensemble cast of actors with varied backgrounds including film, television, and theater. Carson Elrod, who stars in the movie as O'Shaunessy, is a consummate Broadway actor with credits including Noises Off and Peter and the Starcatcher. He's performed at Lincoln Center, Off-Broadway and in the New York International Fringe Festival and his television credits include 30 Rock and Law & Order: Criminal Intent. He spoke to us about wearing 19th-century style clothing in the sweltering summer and how silent film still resonates today.
Describe your role in The Unsilent Picture.
O'Shaunessy is a war-worn Irishman with an artificial left hand and a huge appetite for drink, camaraderie, hunting, and food. He finds his friends hilarious and the kind "of the earth" men who can stand face-to-face with a bear and have the bear apologize and scurry away.
How did you approach your role?
I approached the role through conversation and collaboration with our director Alex and our brilliant costume designer. I gave a lot of feedback and ideas for whom each of these characters was and I began to work from there. But it really came together when the costume designer showed me sketches and we began doing fittings. It was her brilliance that imagined into the world the idea that he'd lost his arm, was sensitive to light, even at night, and was possessed of slick hair and dignified mustache. Given all of that information, I began to craft the way he moved, listened, and interacted with his world. Any acted performance you ever see is the culmination of a delicious collaboration of imaginative and creative minds coming together to tell a story.
Do you think audiences are interested in a silent film?
Absolutely. You can see audiences loving film and music videos in bars and clubs playing without sound. I went to a Chaplin festival on the Fourth of July on a rooftop in Bushwick [Brooklyn] and the place was packed with people there to watch Charlie Chaplin movies before fireworks. And they still work! People were so engaged and responsive. The moving image is probably the most compelling and captivating form of art ever created and with or without sound, the human mind reacts to the visual world, especially when a story is being told. The human mind craves story, context, and narrative. Speaking or not, film is endlessly effective as an art delivery device.
Is there a special challenge to working on a film like this?
The challenges of working on a film like this are the same as working on any film. For example, wearing wool costumes in the middle of the summer and trying not to overheat and pass out transcends whether the film is silent or not! Film is an especially visual medium. I had a film acting teacher once wisely remark, "Any quality film, you should be able to watch it with the sound turned off and know exactly what is going on at all times." He was right. So with a silent film, it's just very important that the director know what story they want to tell and know how to tell a story in pictures.
Have you been to this part of New York? What do you think?
It was my first time visiting the area and I LOVED it. I loved the Hudson River Line train ride up and I loved it back down. I loved the mansion and the estate [Van Cortlandt Manor] so much. I look forward to visiting sometime again soon. Preferably when I can wear my own clothes and come on a nice cool day and walk around take more of it in. It's gorgeous.
Related learn more