Cornhole: The Game and Its History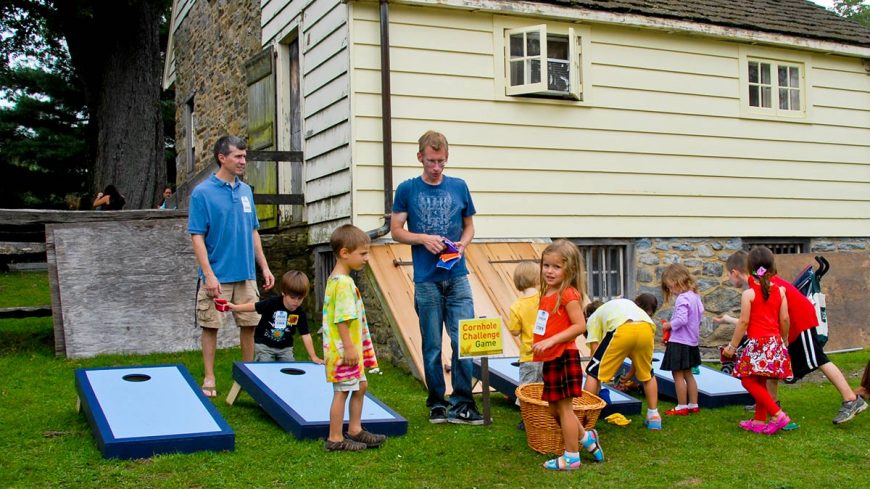 Some say it was invented in 14th century Germany. Others credit the Blackhawk tribe of Illinois. Still others point to a Kentucky farmer in the 1800s.
Whatever its origins, the game cornhole emerged as a favorite pastime in Cincinnati about 15 years ago and soon spread like wildfire to backyards, beaches, breweries, and campgrounds across the United States, even here in the Empire State. In 2011 the New York Times declared that the Midwest's favorite game is ''sweeping the Northeast.''
If you've been to a professional football game and walked past pre-game tailgating parties in the parking lot, you probably saw people playing a version of the game, often called tailgate toss. That's because fans of the Cincinnati Bengals introduced cornhole to fellow tailgaters from opposing teams, and it spread from NFL parking lot to NFL parking lot after that.
Today cornhole games are sold everywhere in every imaginable form. In addition to traditional boards decorated with sports teams, family names, and college logos, there are floating versions for pools, portable sets, and even (of course) a mobile app.
Why is this game so popular? The American Cornhole Association (yes, there is such a thing!) points to its portability and age-friendliness. "Horseshoes require a sand pit and are hard for the kids to pitch,'' explains the association on its website, ''lawn darts require a lawn and hasn't been seen since the 70's, ring toss was made for children and bean bags are for wimps; Cornhole is the game for everyone!''
Playing the game is simple. Groups of two or four players take turns pitching bags into opposing cornhole platforms with the goal of scoring a corn bag in-the-hole (the bag must come to rest completely inside the platform), worth 3 points. Bags landing on the platform, but not completely in the hole, score 1 point. The first player or team to reach 21 wins. Here are instructions on how to play from the American Cornhole Association.