Remembering the Past in the Future: A Diary of 1860s Irvington, New York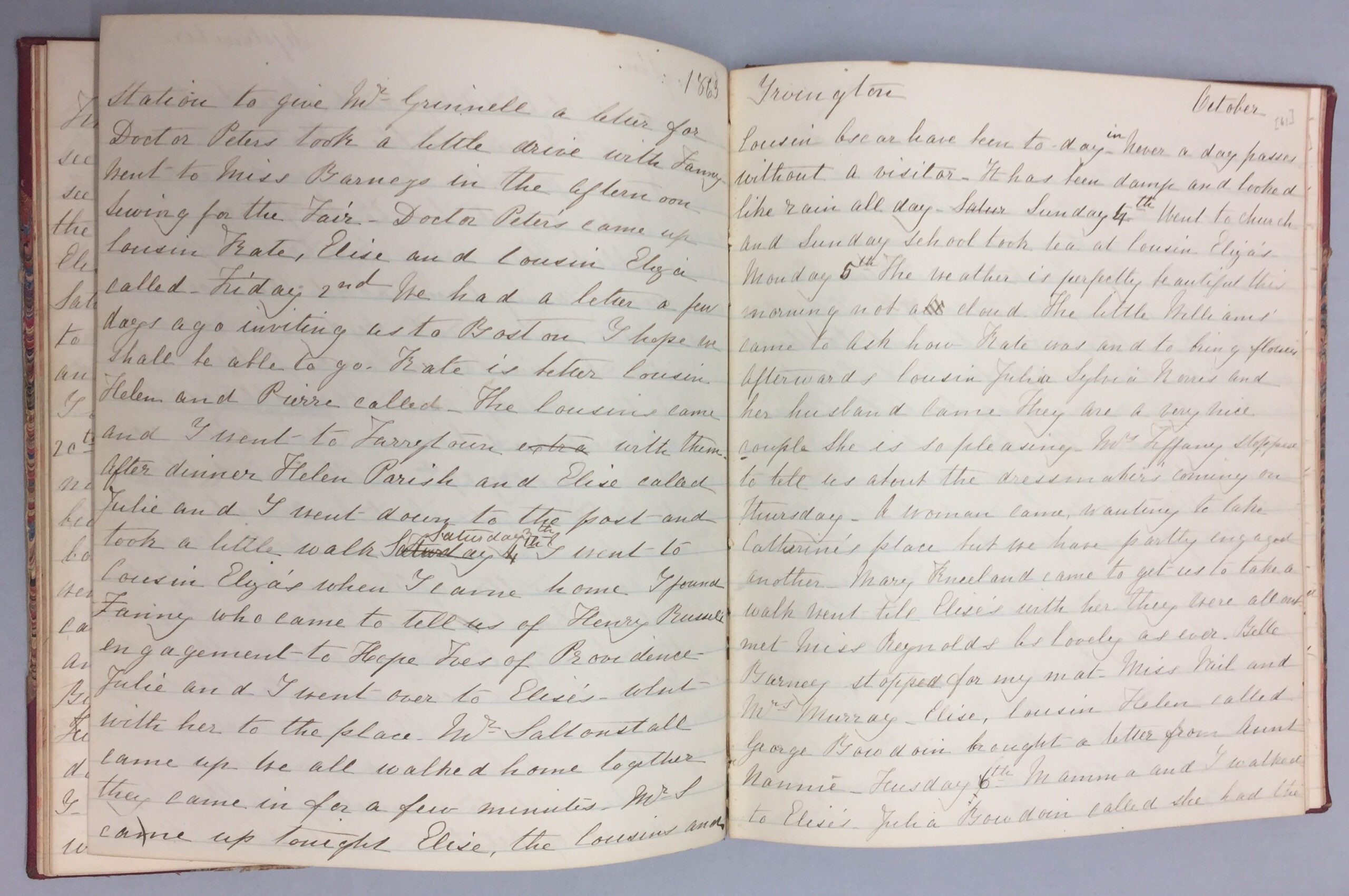 This diary, written in a small copy book measuring about 7"-8" square, was kept over a period of almost two years by Susan (Susie) Van Wart Storrow.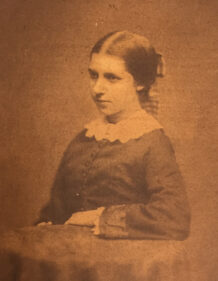 Susan Van Wart Storrow (1844-1865) was the middle child of Sarah Paris Storrow and Thomas Wentworth Storrow, Jr. With her father managing the European branch of the family's American business, she and her sisters were born and raised in France. The family came to New York around 1860-1861, settling, if not at first but by the time of the writing of the diary, in Irvington. Thomas Storrow, Jr. passed away in September, 1861 and is buried in Sleepy Hollow Cemetery, in the Irving family plot.  Sadly, Susie would join him there four years later, thirteen months after the last entry in this diary.
She wrestles with and lightly chides herself, "determined to keep a diary" but sometimes missed a day—"so much for the resolution." We do not know if she continued keeping the diary when, running out of pages, she wrote "I have now come to the end of this book which look so formidable when I began it."
The entries give terse accounts of daily life, filled with local and familiar names in the Irvington area during the middle years of the Civil War. Susie is largely untouched by the war although Charlotte Irving Grinnell takes her down to see troops in Tarrytown. She makes a cushion and sews for the fund-raising fairs and is a witness to events that are later historically significant—railroad tracks being torn up during the draft riots (which prevent visiting Irving relatives from returning to New York City), Irish maid servants not coming home (mistakenly presumed involved in the riots or worse), days of "prayers for the State of the Country" and delayed reports about what would come to be known as the Battle of the Wilderness. There is difficulty getting and holding onto servants, and the young men in her circles (friends and relatives) are mostly engaged in academics and professions rather than soldiering.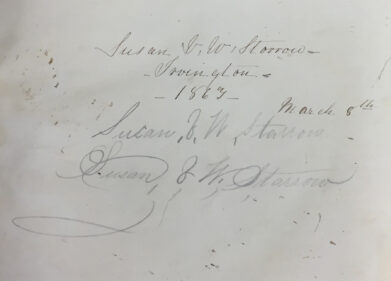 Susie enjoys and partakes in different types of entertainment. When she is in visiting in New York City, she pays social calls, attends the prominent Grace Church, theater and opera, lunches at Delmonico's, goes to see the Stereopticon, plays board and card games—and shops! She sits for her photograph but must approve it and then wait for a week to pick it up, and later on has her fertotype taken. During one summer, she plays croquet in Lennox, MA. Back home, there are daily walks (often multiple), skating on the pond at the Hamiltons' nearby residence, carriage rides, and more paying and receiving social calls ("Never a day passes without a visitor"), a "pic nic" and an outing to West Point, returning by train which one of their party requests to stop on the tracks near his house so they can all disembark there. Christmas and New Year's celebrations (sister Kate acting in a "tableaux") are noted. She is a steady reader and cites titles and, sometimes, opinions, in the diary. She hates the wasted time with dressmakers but goes to her first party as an adult in a new made dress of "white silk" with violets in her hair. An earlier, informal evening out was missed, however, as neither she nor her sister, Kate, had "fresh" dresses which could mean ones that were clean and presentable or new.
The weather controls activities with rain, mud and snow making it difficult to get about and the heat is oppressive. Much of each day is involved with visiting nearby relatives and friends, taking German and dancing lessons, and attending meetings for the sewing societies and fairs for fundraising for the United States Sanitary Commission. The Paris family did not own a carriage and I suspect that they were not overly financially comfortable.
There are almost six hundred individuals named in the complete diary—friends, family, and brief acquaintances in New York and Lennox, MA, where she spends August and September, 1864. Many have the same names (Eliza, Julia, Nannie, Mary, Sarah, etc.). In her own family there is Kate, her older sister, and Julia, her younger one, known as Julie. "The Cousins" refer to the residents of Sunnyside, sometimes singled out as Cousin Kate, Cousin Mary, etc. Helen and Pierre Munro Irving pop up multiple times. It is mostly possible to identify which Julia, Eliza, etc. is being referred to by the action or other small clues associated with them. There are many engagements, marriages and deaths of both adults and children (two appear in this version) so Susie's was not a sheltered life.
Having dissected, cataloged, and happily lived through these two years, multiple times, with Susie, the most poignant line in the diary must be the entry from September 2, 1864
"I always forget that years hence should I read this journal things that I ken about at this time I may almost have forgotten"
Susie did not get the chance to forget but we must always be grateful to whoever kept this diary so she and the people and events she wrote about will never be forgotten.
Catalina Hannan
Librarian
Historic Hudson Valley
May 12, 2020