Great Gardens in the Hudson Valley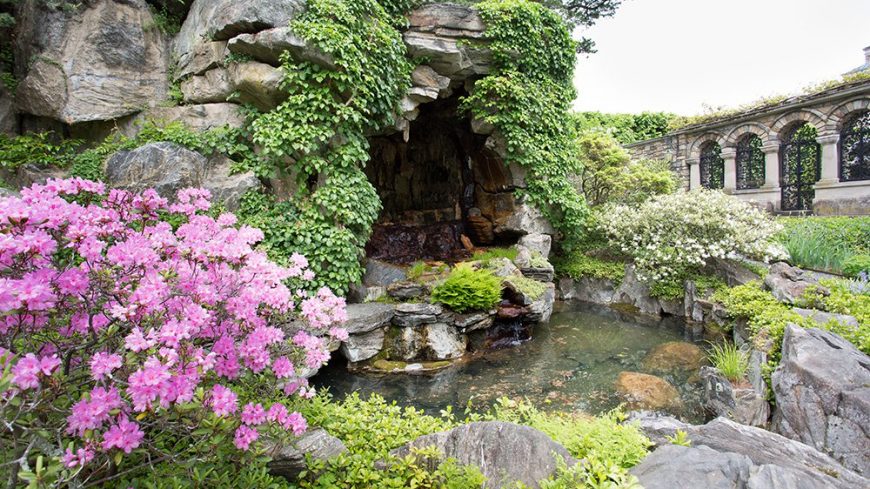 There's a reason why the Hudson Valley inspired Andrew Jackson Downing—one of America's founding fathers of landscape design. In a time of Industrialism, he advocated a rural life and communing with nature, and the Hudson Valley was the perfect place to do so. The area remains the perfect retreat to this day, as evidenced by some of our favorite gardens below. Spend an afternoon at any of these picturesque oases and you're sure to feel restored and enriched.
Kykuit
If you can tear your eyes away from the stunning Hudson River views, you'll notice the magnificent work of William Welles Bosworth. Designed between 1906 and 1913, these Beaux-Arts gardens are considered Bosworth's best work in the United States. Stroll through the formal gardens, such as the Rose Garden, Italian Garden, and Brook Garden, and be sure to visit the outdoor sculptures by celebrated artists such as Alexander Calder and Henry Moore.
381 North Broadway, Sleepy Hollow; hudsonvalley.org/kykuit
Innisfree
Landscape architect Lester Collins worked with artist Walter Beck to combine Modernist principles with traditional Chinese and Japanese garden design ideas in this 150-acre garden, which includes a 40-acre lake and is dotted with streams and waterfalls. The garden was planned to unfold and present "three-dimensional garden pictures" as one roams through it. The way the elements are designed to work with the surrounding nature make this the perfect place to both relax and inspire.
362 Tyrrel Rd, Millbrook; innisfreegarden.org
Stonecrop Gardens
Although it's just 15 acres, it's easy to spend hours here meandering through the vastly different landscapes. Let your intuition guide you, but make it a point not to miss the inner sanctum, an enclosed flower garden, and the rock ledge, which has a man-made waterfall you won't believe wasn't always there.
81 Stonecrop Lane, Cold Spring; stonecrop.org
Montgomery Place
In addition to panoramic Hudson River views, this 380-acre historic site has expansive gardens, including formal gardens, garden "rooms", orchards, and—a visitor favorite—a "rough" garden that includes an artificial stream. None other than Andrew Jackson Downing himself assisted with the layout and design of the estate.
25 Gardener Way, Annandale on Hudson; bard.edu/montgomeryplace
Lasdon Park and Arboretum
A real standout here is the Chinese Friendship Pavilion and Cultural Garden. The pavilion itself was a gift from the city of Jingzhou, and the gardens contain native Chinese plantings, such as bamboo and Kousa dogwood. You'll also be delighted to discover the Famous and Historic Tree Trail, which has trees that are direct descendents of trees that have historical significance in America.
2610 Amawalk Road, Katonah; lasdonpark.org
Caramoor Center for Music and the Arts 
If you've only been to Caramoor for the music, the gardens are worth another trip. A particular favorite is the Sense Circle, which was designed with the visually impaired and handicapped in mind. Plants in this garden are meant to engage all your senses—they are highly scented, textured, and very vibrant—some are even edible.
149 Girdle Ridge Road, Katonah; caramoor.org