People Not Property Helps Teachers Tackle the Hard History of Slavery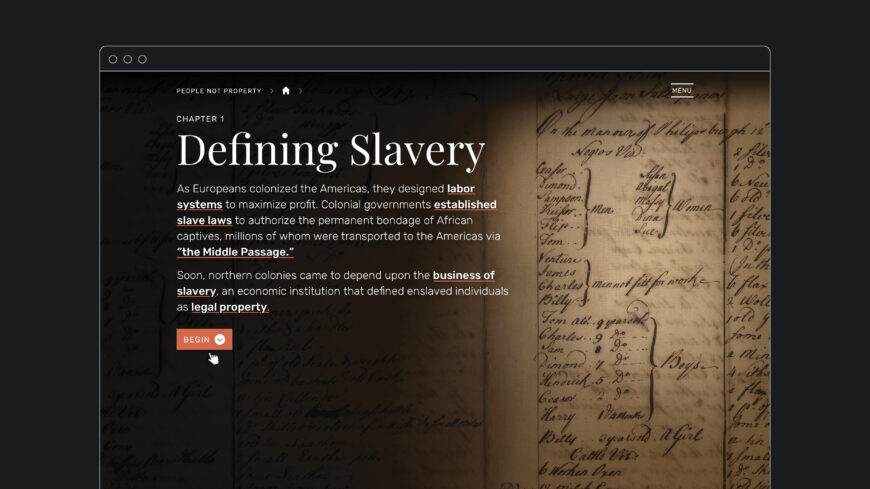 New Training Videos Ready to Roll
"Teacher Talks," four new training videos, are available to help educators incorporate the wealth of information available in HHV's award-winning documentary "People Not Property: Stories of Slavery in the Colonial North" into their history lessons.
"Teaching real American history feels like the precisely needed endeavor at this point in our country's history," said Malik Work, a theater teacher, writer, and actor who participated in HHV's focus group to help shape the final videos. "I think many communities are hungry for this."
HHV partnered with two stellar Hudson Valley-area high school teachers to share how they use "People Not Property" most effectively to engage their students: Courtney Grey from Arlington Central School District (Poughkeepsie, New York) and Bob Fenster from Hillsborough High School (Hillsborough Township, New Jersey).
"You know that when students don't want to leave at the end of the period, that's something that's working really, really well," Fenster told the HHV team.
The "Overview" demonstrates how to navigate the website and access maps, primary documents, a range of media, and a glossary with updated language for discussing slavery. It features Fenster and Grey reflecting on how to connect their lessons to what is happening in the world today.
The second video, "Creating Connections and Addressing Challenges," presents the teachers' perspectives on teaching about slavery and suggestions for their peers, including the need to set aside time to debrief students about what they've just experienced and to discuss the emotions that the material might evoke.
The third, "Resistance and Rebellion," is an in-depth guide to Grey's pathways through "People Not Property," including tangible connections to the Hudson Valley. The fourth, "Traditions and Community," outlines Fenster's preferred method of journeying through the website during a 40-minute class or over the course of several days.
"Teacher Talks" was produced with the support of St. Faith's House Foundation and the AGB Fund. The four short videos are available on YouTube and HHV's website.
Virtual Educator Program Connects Teachers Nationwide
They came from Texas, California, Massachusetts, and just around the corner. Teachers of high school history, civics, Spanish, art, and fourth-grade social studies. And over the course of HHV's summer 2021 workshop, they spent hours in front of their home computers to learn about the lives of enslaved people in the colonial North and what effect that information might have on their students.
"It would not be an exaggeration to say that every participant returned to their communities with new lesson plans and fresh ways of looking at their curriculum," said Jessa Krick, a member of HHV's Education Team who helped develop and manage the program. "They also have more insight into the language they use and techniques for engaging their students in honest and hard discussions about American history."
As one educator said, "It's our role, whether we interpret sites, teach history, or write about this history, to find the human story, the human agency and write it in a way that centers Black resistance, resilience, humanity."
HHV's third teacher workshop, supported by the National Endowment for the Humanities, pivoted from on-site to virtual when the pandemic eliminated most in-person gatherings. HHV staff created two one-week programs for 72 school teachers with a balance of lectures from visiting scholars, group discussions, assignments, and virtual tours of HHV's Philipsburg and Van Cortlandt Manors, the African Burial Ground in New York City, and the Schuyler Mansion Historic Site in Albany.
One attendee from New York City who was raised in China wanted to learn more about slavery and this period of American history to benefit her students. Two teachers from California made plans together on future slavery-related projects. The virtual structure accommodated teachers across time zones who might not have been able to travel to New York or couldn't afford time away from family obligations.
"I learned a great deal from the other participants," one teacher reported in a post-workshop survey. "It was a rare opportunity to work with colleagues beyond elementary school and from across the country. That exposure added another enriching dimension to the experience."