Historic Hudson Valley Receives Accolades for People Not Property, Contributes to ArtsWestchester Exhibition, and Bella Meyer Visits Union Church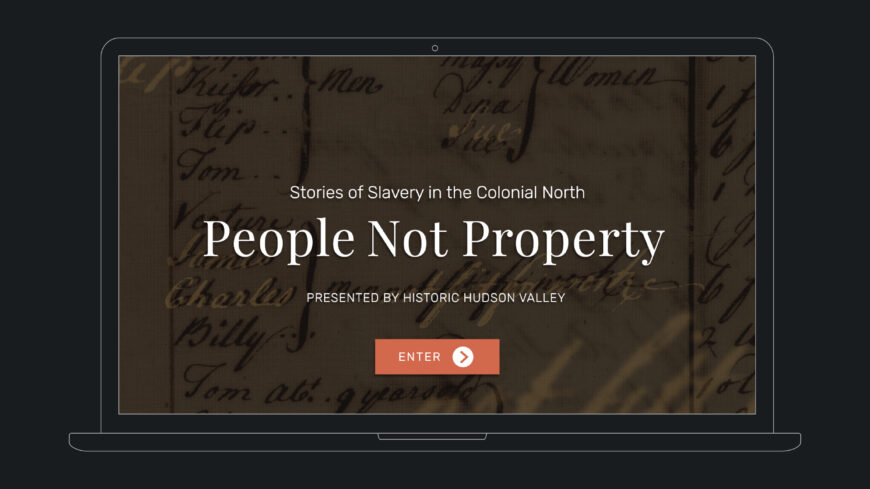 More Kudos for "People Not Property"
The Anthem Awards, a new initiative that "amplifies the voices that spark global change," honored HHV's documentary People Not Property: Stories of Slavery in the Colonial North this year with a Silver award in the Diversity, Equity, & Inclusion Awareness — Special Projects category.
People Not Property was supported by the National Endowment for the Humanities and produced by creative design studio C&G Partners. It has won several awards, including a prestigious Webby in 2020 in the Websites/Education category. The Webbys and the Anthems are awarded by the International Academy of Digital Arts & Sciences to honor the best of the internet.
"People Not Property is a content-rich education resource that uses unique media design and technical characteristics to allow the general public, students, and teachers to learn about historical topics and connect them with issues of race in America today," according to the Anthem Awards. If you haven't yet experienced the deeply personal journeys of the enslaved people who lived and worked at Philipsburg Manor, the documentary can be viewed here.
Creating Historic Art
Two members of the HHV team had their work on view in ArtsWestchester's exhibition "Together apART: Creating During COVID," a show that reveals the way people have turned to creative outlets during this stressful moment in history.
Rob Yasinsac, HHV's operations manager and member of the Education staff for 24 years, showed Isolation Multiple-Exposure Self-Portraits.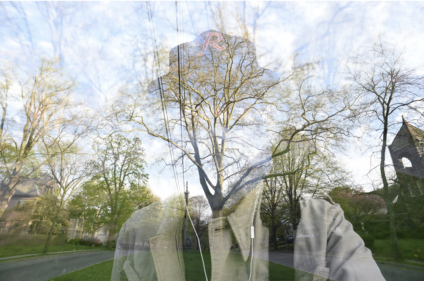 Using a technique called in-camera multiple exposure, he combined images of himself with shots of his neighborhood. One of the sandwiched images, on the steps at the commuter rail station, conveys the spookiness of a faceless individual and the shadows of people no longer coming home from their offices. Yasinsac said he's always out and about with his camera, "looking at the world as a photograph and how to capture it." COVID gave him a new focus. While he's not one to seek out exhibitions, he also showed his architectural photographs in 2020 with the Calvert Vaux Preservation Alliance and in 2018 loaned 40 of his collection of Hudson River bricks to ArtsWestchester's exhibition "Brick by Brick: The Erie Canal & The Building Boom." Yasinsac and fellow photographer and preservationist Thomas Rinaldi are frequent lecturers and the authors of Hudson Valley Ruins: Forgotten Landmarks of an American Landscape.
Erna Brout, an HHV greeter and guide at Union Church, Kykuit, and Sunnyside for the last 15 years, created the mixed-media assemblage Cornered by COVID with wood, cotton, pipe cleaners, and styrofoam.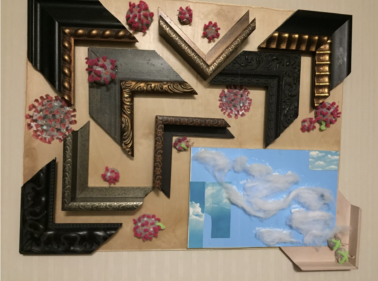 The lower right corner extends beyond the bottom edge and represents hope and health, with white clouds in a blue sky and a weakened virus. The omnipresent spiny spheres used in the media to represent COVID "haunted me with their growing presence, locking us into the fatal disease." Making the piece was cathartic and helpful emotionally, she said. "It enabled me to accept what we are all living with." Three pastels by Brout are on view at the Shames JCC in Tarrytown through June. Brout, who retired as assistant vice president with Chemical Bank and wrote banking software manuals, never stops working with her hands, whether sewing, painting, taking photographs, or making ceramics. "Creating art takes me away," she said. "It is very motivating and inspiring. When I get an idea to make an artwork, I'm driven."
Hundreds of pieces that comprised Together apART are viewable at https://artswestchester.org/together-apart-creating-during-covid/
Chagall's Legacy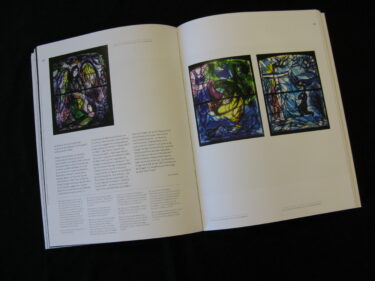 Bella Meyer, the granddaughter of Marc Chagall, visited Union Church earlier this spring to see her grandfather's stained-glass windows in person. Artistry runs in the family and Bella creates beautiful floral arrangements that you can check out at FleursBELLA.
Meanwhile, the HHV library purchased a copy of the luscious Chagall: Le passeur de lumière exhibition catalogue from the Centre Pompidou in Paris. In it, Chagall's colorful Good Samaritan and eight other windows in the church commissioned by the Rockefeller family keep company with the acclaimed artist's other stained-glass masterpieces.