Eradicating Invasive Plant Species at Philipsburg Manor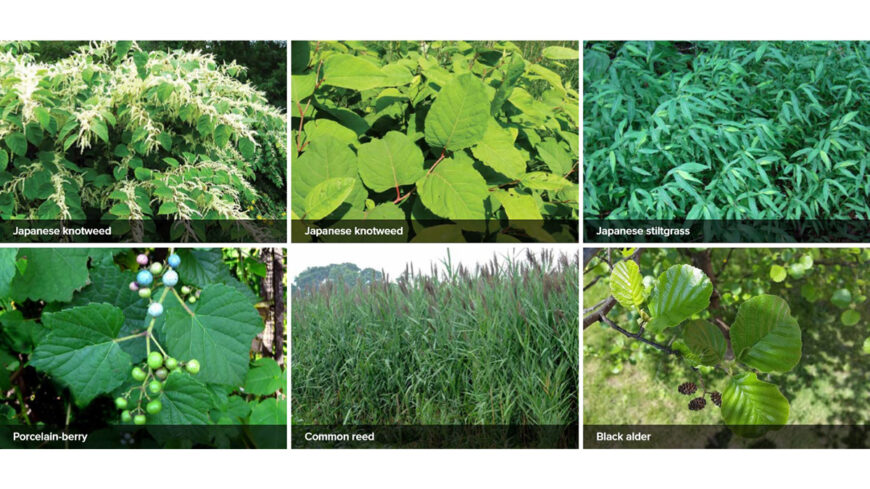 Beginning in 2007, Philipsburg Manor experienced numerous storms and hurricanes which altered its native landscape. Along with many smaller plants and shrubs, several mature willow trees were uprooted along the banks of the Pocantico River, giving invasive species an opportunity to take hold in these newly opened areas of the landscape. Over time in these areas, the invasive species Japanese knotweed became more and more established with less competition, eventually covering 1.7 acres of our 25 acre site. Walking along the path behind the visitor center, it was clear that Japanese knotweed was dominating the landscape. Native plants were crowded out with little hope for survival. Our regular landscaping practices were no match for the spread of this hardy species and it became apparent that intensive treatment would be necessary.
In 2017 Historic Hudson Valley (HHV) was awarded a three year grant for $100,000 from the New York State Department of Environmental Conservation to eradicate Japanese knotweed from Philipsburg Manor. The project began with eradication treatment. HHV partnered with Trillium Invasive Species Management for the implementation of proven control methods for this species, beginning with herbicide injections into the plants with larger stems and foliar coating on the smaller plants. In the treated areas, a native seed mix was spread annually in the late fall or winter to increase native plant diversity and discourage the return or spread of knotweed to this newly opened land. Equally important to the knotweed eradication and seed spread was the next phase of the project:  landscaping. In the fall of 2019 and summer of 2020, 273 shrubs and 63 trees were planted at Philipsburg Manor, representing 30 different native species. HHV's landscape manager, Mary Ann Witte, worked closely with Dillon and Semenovich, our landscaping contractor, to choose this impressive variety of native plants and to strategically place them on the property.
As we approach the end of our three year grant term our periodic inspections indicate that we have nearly eradicated Japanese knotweed from Philipsburg Manor. However, we will not let our guard down at the end of our grant term. Annual inspections from Trillium followed by timely treatment of any returning Japanese knotweed will be paramount in preventing its re-infestation.
While our Japanese knotweed grant is nearing its conclusion, we continue our efforts to restore Philipsburg Manor to its native beauty. In 2019 HHV received two additional grants from the New York State Department of Environmental Conservation, with a combined total of $204,000, to eradicate other invasive species from Philipsburg Manor. The species targeted in these grants include Porcelain-berry, Japanese stiltgrass, Common reed and Black Alder. These invasives initially covered 2.65 acres of the site, with Porcelain-berry the most widespread.   In our first year of treatment, we have surpassed 80% mortality of these species and are working to achieve complete eradication within 6 years. Look for updates about our progress in the future!