Celebrating 10 Years of Ginger the Barn Cat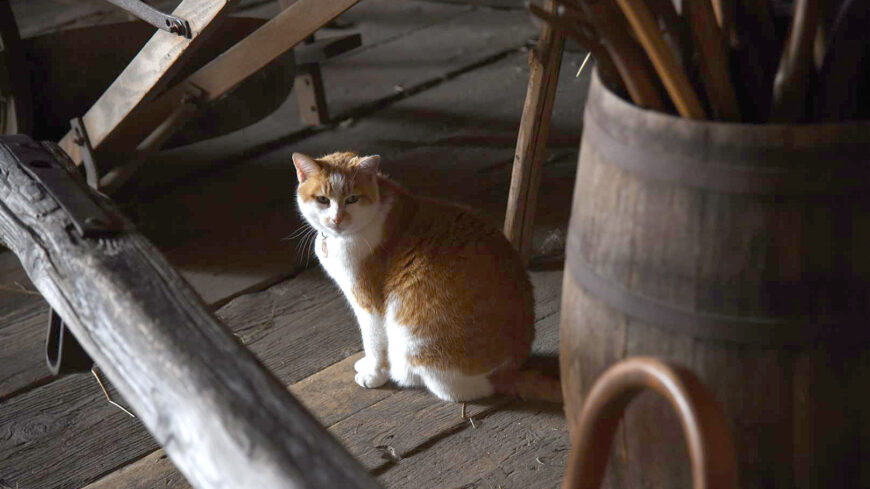 Today, Tuesday June 30, marks a distinctive milestone in the career of one of Historic Hudson Valley's most visible and remarked-upon "staff members." On this date in 2010, our current barn cat Ginger and her brother Fred came to Philipsburg Manor, recommended to us by our friend Althea Corey who thought they would be perfect mousers.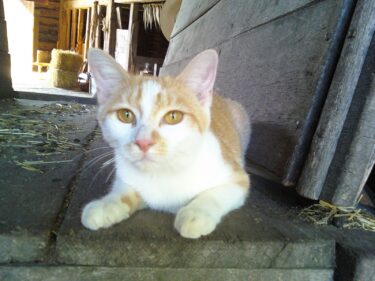 At the time, Philipsburg Manor had a mill cat named Moses, but no one to guard the barn where wheat from our field is stored. Ginger and Fred took up residence there, and when Moses passed away in 2013 at the age of 15, Ginger added Mill Cat duties to her resume. Sadly, Fred passed away in 2017, but Ginger continues to proudly and fiercely serve as our barn cat.
Ginger is one of a long line of felines who served as mill cats and barn cats throughout history, a job that continues to be important today in many kinds of places that store and process grains. In her ten years at Philipsburg Manor, Ginger has served as a feline "security guard" of sorts against potential rodent invaders and other pests and ensured the cleanliness of the barn and mill. Because of her outstanding work at keeping these critters out of the barn and the mill, we have clean wheat for threshing the seeds from the stalks and clean wheat seeds and corn kernels for grinding into flour.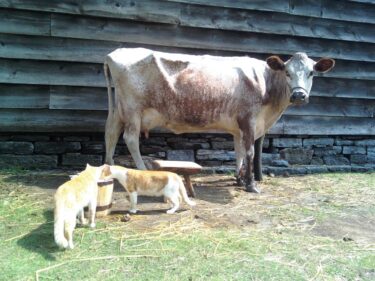 One of our human security guards, Michael Garbarino, counts Ginger as his assistant on night rounds of the property. "I remember how she and her brother Fred didn't really warm up to us for a couple of months. They were so shy at first, and hid in the loft of the barn! By October, Fred and Ginger began to follow me to the far reaches of the property to help secure the site following our Horseman's Hollow events."
It has ever since been an adventure in keeping up with Ginger's endearing antics, from parading in front of tour groups to seek approval for her newly-caught mouse, to distracting young children who immediately want to know all about this orange and white cat, to eating the lunches of a school group who made the mistake of leaving their paper bag lunches unattended in the barn (well, attended only by Ginger, that is). While Ginger prefers to keep her distance from guests, she loves attention from staff who know her well and who give into her pleas for kitty treats. Twice a year, in reward for her heroic efforts, Ginger receives a special treat from our favorite local ice cream vendor Blue Pig. Most cats are not able to handle ice cream, but Ginger, after all, is a farm cat and she is no stranger to dairy.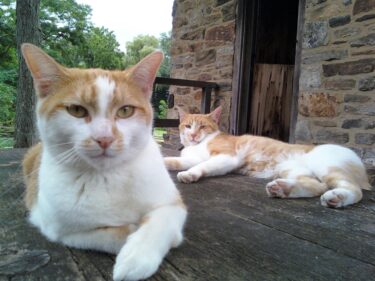 Although she is a barn cat, Ginger is hardly what we could call "feral." She is well taken care of by the staff at Historic Hudson Valley and by our generous friends at Sleepy Hollow Animal Hospital, including Dr. Peter Romano and formerly by Dr. Brian Green, and their staffs.