Kykuit Guide Is an Asperger's Success Story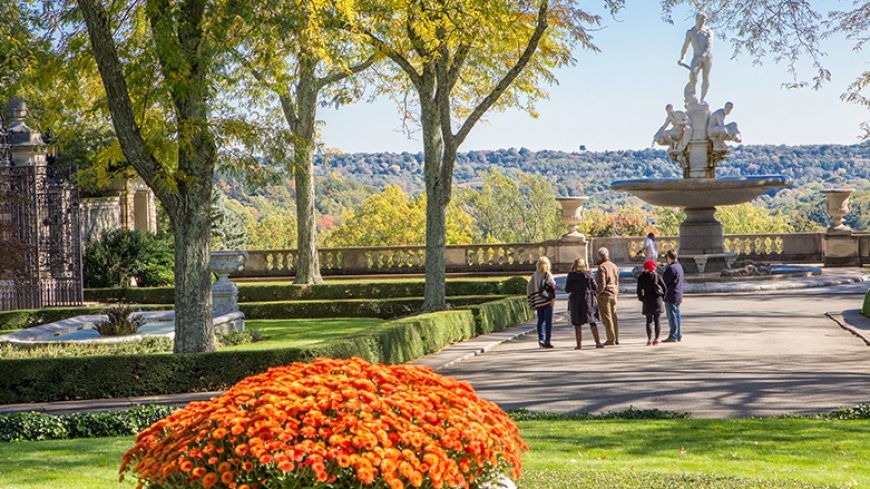 Asperger's syndrome is a developmental disorder marked by difficulties with social interaction. So one wouldn't expect to encounter an "Aspie" leading a public tour of one of the greatest estates in the country. Well, meet Charli Devnet, who does just that in her position as a guide at Kykuit, the Rockefeller estate, a job she's held for 12 years.
Charli's achievement is so remarkable that her story caught the attention of Dr. Temple Grandin, the livestock behaviorist and prominent advocate for the autism community. Dr. Grandin, who also has Asperger's, included Charli's essay in her book, Different … Not Less: Inspiring Stories of Achievement and Successful Employment from Adults with Autism, Asperger's, and ADHD.
"I chose Charli … because I knew her insightful cover letter will offer hope to so many people on the spectrum," Dr. Grandin writes in an introduction. "After years of struggle and a series of false starts, Charli found positive direction in life through an unusual job that was right for her."
Charli came to Historic Hudson Valley, which administers tours of Kykuit, in the winter of 2002, and almost didn't make it through her first year on the job. Speaking in public is challenging for almost anyone, but it is extremely difficult for people with Asperger's. But Charli loved her job as a tour guide, which tapped into her love of art and American history, so she worked hard to acquire the skills she needed to perform well. Along the way, she discovered abilities she never knew she possessed: "the self-confidence to speak in public," she writes in Different … Not Less, "to be articulate and modulate my voice, to make witty comments that are amusing to everyone (and not just to myself), and to impart my knowledge in a way that holds a visitor's interest and attention."
Her supervisor agrees. "Charli is a wonderful tour guide," says Ruth Merrill, Kykuit Operations Manager. "She has a wealth of knowledge, not just about Kykuit, but other areas as well that she brings into play on her tour. Many visitors make a special point to tell us how interesting and informative Charli's tour has been."
Today, Charli lives in Croton-on-Hudson with her two cats, Heather and Boots, and her pony, Silverado. Last fall, she published a memoir, The Snow Queen's Daughter: My Life with Asperger's, A Tale From the Lost Generation, in which she describes how difficult it was growing up in the 1960s in Croton-on-Hudson with a condition that few understood or knew existed.
Here are a few questions for Charli about Kykuit and her job as a tour guide there:
What do you like best about being a guide?
It has enabled me to develop skills and talents that have lain dormant since childhood. For example, talking to strangers and speaking in public are not things I could have done before I came to Historic Hudson Valley. I also like the fact that, when I became a Kykuit guide, I felt part of a "troupe." In my day, we did not have social mentors at school. My fellow guides, all having many more social graces and sophistication that myself, became my social mentors.
How has working at Kykuit changed your view of the Rockefeller family?
As a child, I lived in a family of political junkies so I was aware of Nelson Rockefeller as the Governor (of New York) and followed his career on TV and in the news. Nelson was the kind of guy that you almost felt as if you knew personally. During the late '60s and early '70s I became what we then called a "student revolutionary." So I initially viewed the Rockefellers from the perspective of an Ida Tarbell or Emma Goldman. However, my view of the family evolved as I became more familiar with their philanthropies and their contributions to art and the environment. I had ridden on the Palisades Parkway many times and appreciated its beauty, but it was not until I came to Kykuit that I realized Junior was responsible for preserving the Palisades. I have never been to Grand Teton or Arcadia (John D. Rockefeller Jr. was instrumental in the creation of both national parks), but they are on the bucket list!
Which Rockefeller can you relate to most?
John D. Rockefeller Jr. and I have a number of traits in common. Like me, he had a hard time fitting in. He was fascinated by history and classical art. "Junior" was always expected to follow in his father's footsteps and take over the Standard Oil Company. Like me, he had a lot of false starts, disappointments, and inner struggles before he realized he was simply not cut out to be a corporate executive. He knew he had to chart his own course in life.
What about Kykuit appeals to you most?
What I like best about Kykuit is that the landscape is so calming and peaceful. My favorite part is the view from the West Porch which changes every day depending on the time of year and weather conditions. I tell my visitors when we get to the porch, ''this is where God would have lived if he had had the money,'' which is what the newsies said when John D. Rockefeller Sr. first moved in.