World Book Day: An International Offering from the Library Collections of Historic Hudson Valley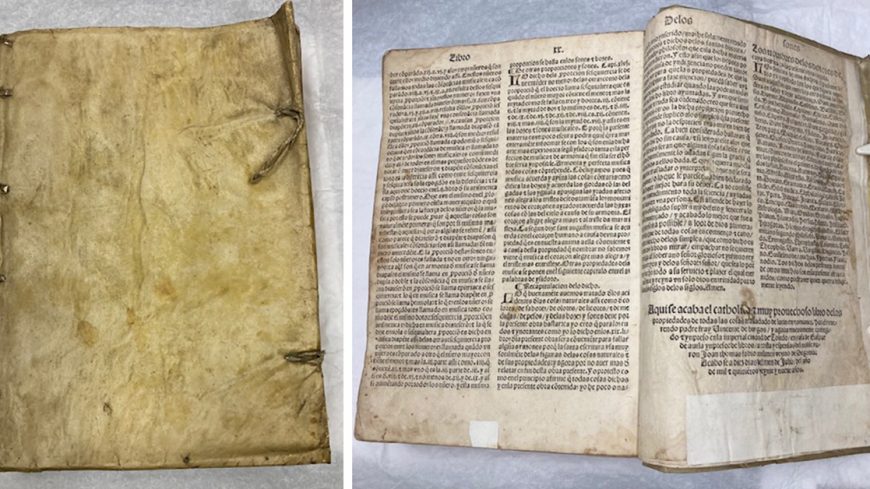 Between 1815 and 1832, Washington Irving lived and traveled through Europe, spending several years in residence in Spain. During this time he purchased over one hundred books in Spanish, dating from the 16th through the 18th centuries. Many of these books are histories and literary representations of the Golden Age of Spanish literature. Quite a few are bound in vellum with leather cord fastenings, and some contain hand painted images that are still remarkably fresh.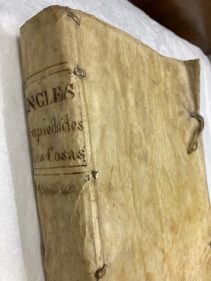 Perhaps the oldest object in all of the collections of Historic Hudson Valley, and the oldest book in our Library collections, is one which dates from 1529, some eighty years or so after the printing press of Johannes Gutenberg began its revolutionary contribution to shared knowledge. This book, Se las Cosas Propiedades (Angles Propiedades Se las Cosas) : (Libro de propiletatibus rerum en romance … historia natural) is a Spanish language-translation of the compendium De proprietatibus rerum (On the Properties of Things.)  With a format similar to a modern encyclopedia, the original book, dated 1240, was an established and significant reference source for several hundred years,  compiled by and credited to a 13th century Franciscan scholar of Paris, Bartholomeus Anglicus, also known as Bartholomew the Englishman and Berthelet. Early translations of the original nineteen sections from the Latin text into French and English appeared in the late 14th century, and the Spanish translation of 1494 by Reverendo Fray Padre Vincente de Burgos y Agoza is the text of our 1529 edition.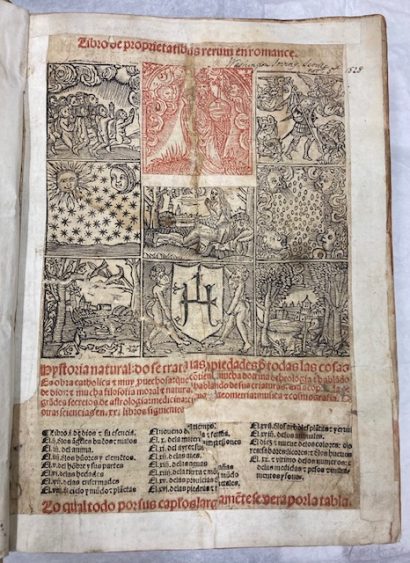 Printed on laid paper, the book measures roughly 11" x 8 ". In spite of the age and condition of the book, Irving wrote, in ink, on the upper right hand section of one of the first pages – "Washington Irving, Seville Nov 5th 1828," perhaps the date of acquisition. Also visible are repairs to this page which had already been carried out. Irving would have shipped this book and its numerous companions back to New York where they would eventually find a permanent home at Sunnyside, his small Hudson River estate. Photos of a room in the house from the early 20th century show these books still prominently displayed on shelves,  later generations of Irvings perhaps enjoying them in some manner.
As this is World Book Day or the International Day of the Book, I submit this precious object as a candidate for inclusion and celebration, as an early example of the rapid spread of information through the centuries, and as an item with a respectable history of international connections as well as with one of the most famous American authors.
If only it could talk – what tales could it tell…
Catalina Hannan
Librarian, Historic Hudson Valley