Irving Family Portraits Arrive at Historic Hudson Valley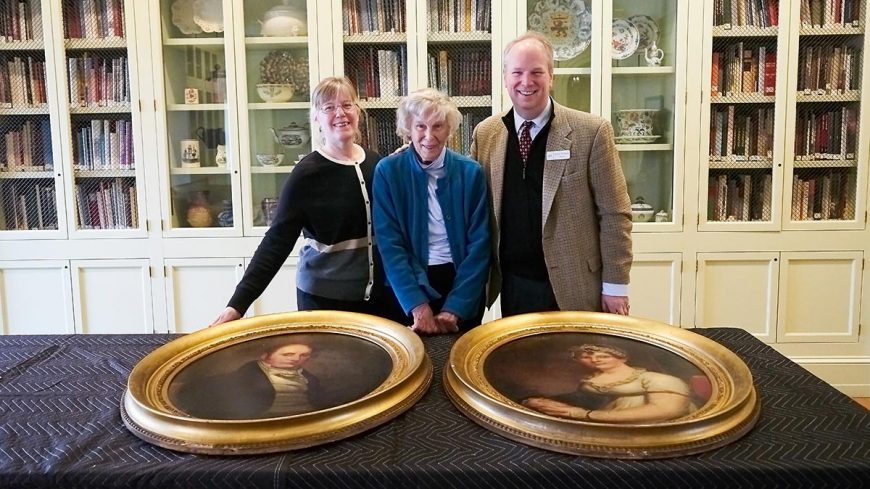 From left, Alessandra Kingsford and Marion J. Kingsford present Historic Hudson Valley President Waddell W. Stillman with the portraits of William and Julia Irving.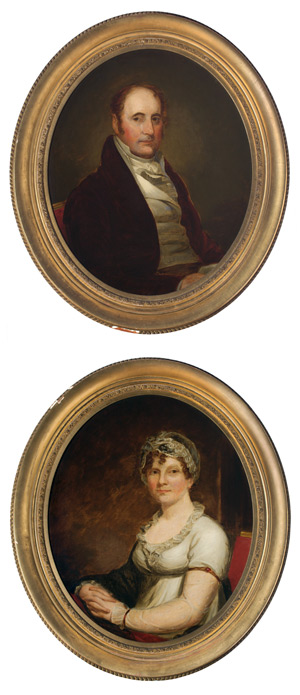 Historic Hudson Valley staff recently rolled out the red carpet for two new additions to the collection, proudly presented by Marion J. Kingsford and her daughter, Alessandra Kingsford. The pieces are portraits dating to about 1815, one of William Irving (1766-1821) and the other of his wife, Julia Irving (née Paulding, 1768-1823). William Irving was Washington Irving's older brother, the eldest surviving Irving sibling.
Despite the 17-year age gap between the brothers, William and Washington had a warm relationship, as surviving letters between the two indicate. William also collaborated with Washington and others on Salmagundi, the early satirical publication that first brought Irving's writing to public attention.
William and Julia married in 1793. A visit to the Paulding family brought Washington to the Tarrytown area for the first time, a locale that fueled his imagination and where he would later make his home. Julia's brother, James Kirke Paulding, a poet and novelist and later Secretary of the Navy, become a literary collaborator and lifelong friend of Washington's.
His brothers William and Ebenezer paid for the young Washington's first trip to Europe in 1804. William wrote to his younger brother, "It is with delight that we share the world with you." He maintained an avid interest in Washington's travels and career throughout his lifetime.
William clearly meant a great deal to Washington. Writing of William, Washington described his brother as "a man I loved more than any other man on earth."
William Irving served in the United States Congress from 1814 to 1819. Jessa Krick, Historic Hudson Valley's Collection Manager, speculates that William's election may have been the motivation for the portraits. "William Irving probably commissioned these portraits at the height of his career," Krick said. "He was already a well-connected and reasonably successful businessman, but the election may have been the extra push for him and for Julia to sit for these portraits." While the portraits are attributed to Thomas Sully, they are unsigned, and further documentation is needed to confirm the attribution.
Although William passed away before Washington purchased Sunnyside, William and Julia's son, Pierre Munroe Irving, knew the cottage well, spending a great deal of time in residence, as he worked alongside his uncle. Pierre served as Washington's assistant and secretary, and eventually as his biographer.
The portraits of William and Julia Irving descended in the family of Marion Kingsford's husband. Plans are in the works for both to be displayed next summer at Washington Irving's cottage, Sunnyside, so visitors can meet these two members of the Irving clan.
The staff of Historic Hudson Valley thanks the Kingsford family for their generous donation.