Together Again: Washington Irving and Thomas Storrow Portraits at Sunnyside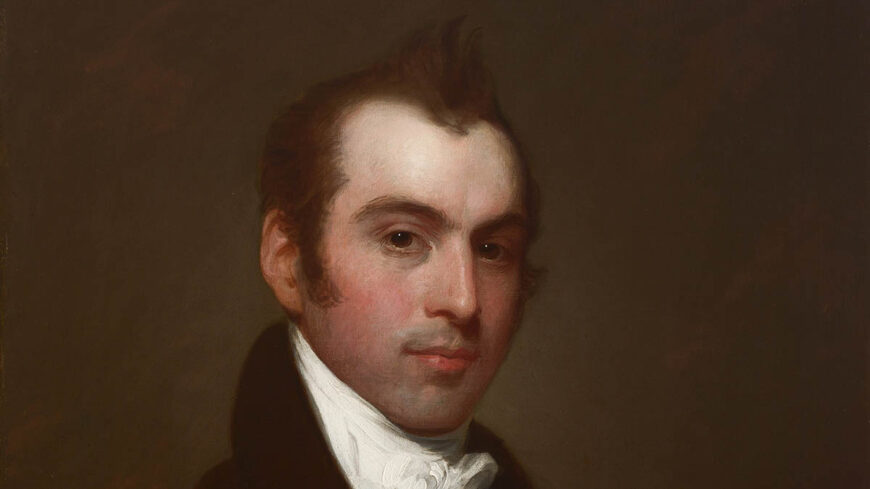 Lifelong friends Washington Irving and Thomas Storrow have been reunited at Sunnyside. More precisely, their portraits hang together in the parlor. Paintings depict the dashing young men in the early 1800s—a 31-year-old Storrow and the famous author at 26—when they likely would have made good use of the setting to enjoy views of the Hudson River. 
"Imagine the conversations they can have now that they're back in the same room," said Jessa Krick, HHV's Associate Director of Collections. "Irving would probably tell Storrow about his travels and plans for finding inspiration for his writing while in Germany. They'd have plenty to talk about." 
Hanging the portraits together provides a delightful focal point for Historic Hudson Valley (HHV) interpreters to discuss Irving's circle of friends and the foundation of enduring familiar connections. Irving's beloved niece Sarah Sanders Paris married Storrow's son Thomas Jr. And Storrow's daughter Susan Clark Storrow married Irving's nephew Henry Van Wart Jr.  
Born in London in 1779, Thomas Storrow was a first-generation American who moved to Boston after his father died in 1794. He was a merchant in New England, and briefly in Montreal, and married Sarah "Sally" Phipps Brown in 1804. Storrow was Treasurer of the Boston Importing Company, a packet line operating between Boston and Liverpool. 
The Storrows ended up back in Europe, and Irving stayed with them in Paris in 1821 and again around 1823-24. In one letter from Irving to Storrow in 1822, he said he planned to "get the confidence of every old woman I meet in Germany and get from her, her budget of wonderful stories." 
Storrow was a member of the genteel working class and might have commissioned this early 19th-century painting from Gilbert Stuart to document his rising social status. Stuart, best known for his unfinished Athenaeum Portrait of George Washington, typically planed the wooden panels he used to make them look like canvas. The darkened background keeps the focus on the subject, and Storrow's upswept red hair quickly establishes that the sitter was once young and trendy—no more powdered hair. 
At the time of Irving's sitting with portrait artist John Wesley Jarvis, he had just published his History of New York under the pseudonym Diedrich Knickerbocker and was likely celebrating his new success.  
There is a real air of confidence for the sitters in both the Storrow and the Irving portraits. "People respond to the image of the young author at the beginning of his literary career," Krick said. "His pose and expression give a sense of Irving as a keen observer, who would bring such details to 'The Sketch Book of Geoffrey Crayon, Gent.' and later works."  
HHV purchased Stuart's Storrow portrait in 2018 from Thomas (Tim) Storrow of Greenfield, Massachusetts, and his four siblings. The painting had been hanging in Tim Storrow's father's home.  
With the help of a grant from Greater Hudson Heritage Network, the portrait was readied for hanging at Sunnyside. Conservator Rod Thompson from Santo Spirito Restoration cleaned the frame's gilded and painted surfaces and restored bits of beading and leafage patterning. Nadia Ghannan Fine Art Conservation stabilized the painting, removed a cloudy dirt layer, and retouched areas of Storrow's face and white collar.  
'It's not every day that HHV has the opportunity to acquire a painting by a significant American artist that relates to the history and story told at our sites so clearly," said Waddell Stillman, HHV's President and CEO. "We are thrilled to show the young gentlemen today again."