Washington Irving's Passport: From Spain to the Hudson Valley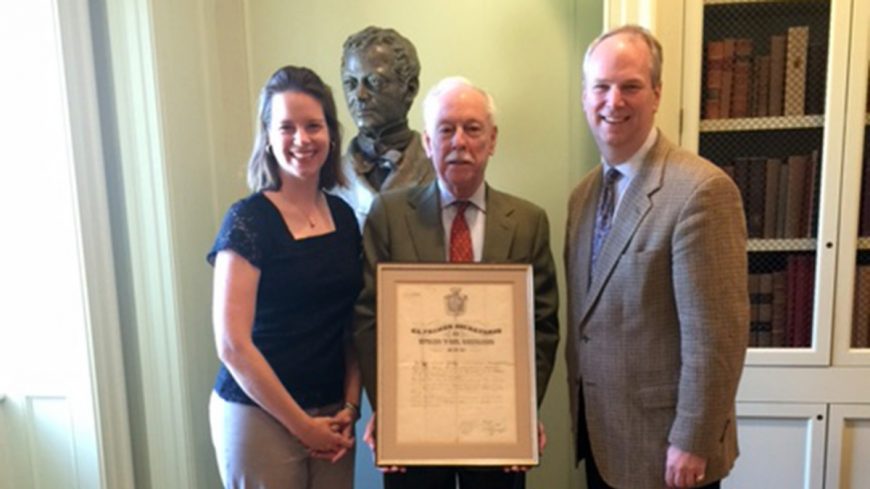 Thanks to a recent gift, the passport issued to Washington Irving by Spanish officials in Madrid now has a place in Historic Hudson Valley's Manuscript Collection. Dated August 6, 1846, the document was issued to Irving in his role as Envoy Extraordinary and Minister Plenipotentiary to the Court of Spain at the end of his service. In fact, the document states it has been issued "for him to return to his country."
Irving was leaving Spain much to the regret of the royal family and ministers on the eve of a violent uprising in the country. Irving had recorded in both official reports and personal letters to his family the events leading up to the uprising over the past four years.
Unlike the passports of today which resemble small booklets, the Spanish passport is a large folded piece of paper which also bears the signature and official stamp of the Commissioner of Police of Bayonne, France.
The other three Irving-related passports already in the Library's collection are different in that they are signed by Washington Irving in his capacity as Charge d'Affaires in the Legation of the United States in London, an earlier diplomatic position. All are numbered and in French, the language of international diplomacy at the time. These passports were issued in 1831 to three different Americans in preparations for travel abroad.
Now together in the collection, these well-traveled documents illustrate one of Irving's several careers, apart from writing: that of an international diplomat.
Pictured: Donor Percy Preston, Jr., center, presents HHV's President Waddell Stillman and Collections Manager Jessa Krick with the Irving passport.